Security continues to be a concern for customers as they consider moving to the cloud. However, some aspects of a secure infrastructure are common in many customer deployments.
In order to show those common elements, we created a reference architecture that you can read about in the whitepaper "Reference Architecture: Enterprise Security for the Cloud." There, we discuss some of the security challenges we see across our customer base and a conceptual design to address them. Take a look and let us know what you think.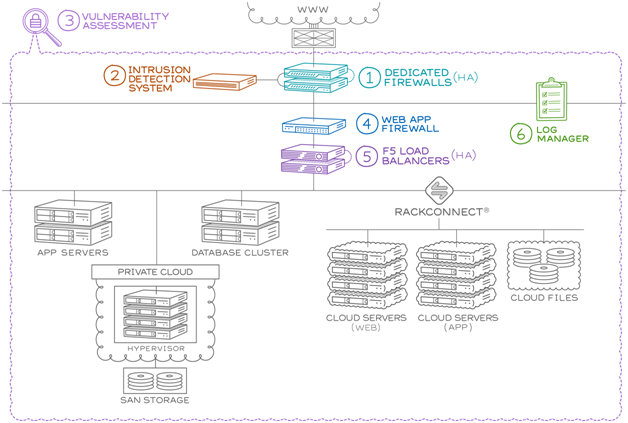 SAVE MONEY
We are also giving you the opportunity to deploy this reference architecture at up to a 30 percent discount on the security solutions compared to acquiring one or two parts of the solution. The components in the solution are:
RackConnect:

Cisco ASA Firewall
F5 Big-IP LTM

Threat Protection Bundle:

Alert Logic Threat Manager (includes Vulnerability Assessments)
Alert Logic Log Manager
Imperva Web Application Firewall
To take advantage of this opportunity you need to just sign-up and activate Cloud Servers if you have not already done it. Just call your account manager to discuss. We don't have restrictions on how much to provision, but notice that a 12-month term is required.
If you already have several parts of the solution, you may complete the solution and receive discounts on the parts that you are adding. You can also upgrade anything in the Threat Protection Bundle to meet your customer's needs. For example, you could add HA, or upgrade the firewall or F5 load balancer, or add throughput or log sources to Threat or Log Manager, or upgrade the device or service level on the Imperva Web Application Firewall.
Let us know if you have any questions. We are running this opportunity until the end of April 2013.