In an era of exploding content, companies are scrambling to work out how to gather and understand customer feedback. In a perfect world, everyone fills out their satisfaction survey card at the hotel front desk or at the restaurant table, but the truth is that most reviews are posted on third-party websites. How does a luxury hotel, for example, track what their recent guests are saying online about the hotel's service? Rackspace Cloud customer Revinate has just the solution.
Revinate noticed how social media was affecting the hotel industry—online reviews were having a bigger impact on customer hotel choices than brand awareness or the wider reputation of a hotel chain.  With their deep roots in social media and the hospitality industry, Revinate saw an opportunity and jumped in. They offer a reputation management and social media marketing service specifically designed for hotels.
The SaaS platform aggregates online reviews and social media content (e.g., Twitter, news and review sites, blogs, YouTube) so that hotels can discover, analyze, and profit from the "word on the street." Revinate uses sophisticated analytics and even has a fully integrated Twitter client, TweetConcierge, which allows hotels to build followers, manage multiple accounts, and track promotional campaigns on Twitter.  Before Revinate arrived on the scene, hotels had to apply lots of manual labor and a clumsy array of tools to follow what their customers were saying online, and even then they only caught a fraction of the conversation. Revinate brings it all together so that a hotel marketing team can take decisive action.
"We realized that hotels, more than any other industry, needed a customized solution that would turn social media from a threat into an opportunity to improve profitability and market share," says Jay Ashton, Revinate's co-founder and CEO. "We enable hotels to hear everything that's being said about them and their competitors, which allows them to enhance their online reputation."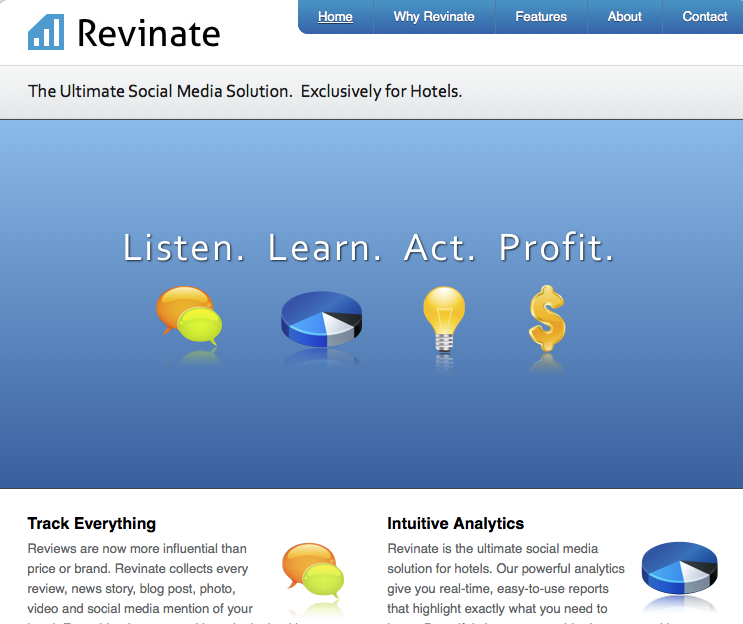 Revinate ran an oversubscribed beta program last September and launches its official, public offering tomorrow, March 3. It already has more than 150 customers signed up, from individual hotels to entire brands and asset management groups.  Some of its clients include Rosewood Hotels, Trump Hotels, Kimpton Hotels and Joie de Vivre Hotels, as well as Peninsula, InterContinental and Hyatt properties.
Spencer Yeo, Director of Marketing at The Peninsula Beverly Hills, says, "Reputation is important, and Revinate has been a valuable solution and partner to help us manage our Online Reputation and Social Media strategy.  Its ease of use, its comprehensiveness, and its specialized intelligence and function helps us execute a highly successful social media campaign."
Why Revinate Chose The Rackspace Cloud
Revinate was looking for a financially and technically efficient way to deliver their offering to end users, so it was only natural that they gravitated towards cloud computing.  The Rackspace Cloud was lucky enough to earn their business with the robustness, flexibility, pricing, and support of its platform.
Revinate uses Cloud Servers to fuel its web-facing SaaS-style application. It also uses Cloud Files to serve static assets using the CDN feature via the API, enabling fast and global content delivery. As the business grows, the technology team at Revinate is able to quickly launch new machines from a trusted baseline.
"We use The Rackspace Cloud servers for a wide array of functions—load balancers, utility/logging servers, application servers, databases, data aggregators," says Revinate's Kent Langley,  "The result is a highly-available, vertically and horizontally scalable system that is easy to grow and maintain."
Since customer service is king in the hotel industry, we're pleased that our Fanatical Support has left an impression on the Revinate team.
Langley says, "Support has been excellent thus far at The Rackspace Cloud. The times I've needed to use it, it was quick, efficient, and included in the cost. Additionally, there are many useful help documents available when needed.  Efficient, dedicated support saves us time and therefore money."
Everyone at The Rackspace Cloud wishes Revinate great success with its official launch.  We're delighted to play a role in this innovative social media offering. If the beta is any indication, hotel marketing teams around the world are already embracing Revinate as the Mission Control for reputation management.