In 2001, I bought my first cell phone; a Motorola phone from Radio Shack. For $40 per month, I had 400 minutes of analog reception, an extendable antenna and a good game of Snake.
Over the next decade, the smartphone era emerged. Today, most people have a pocket-sized device more powerful than many home computers from a few years ago. Your productivity with a smartphone is exponentially greater than with your first mobile phone.  You have the Internet at your fingertips; you can perform banking transactions, get turn-by-turn directions and find locally popular businesses. Many smartphone consumers admit they could not live without their device. What was once a basic utility has now become a hub of productivity.
You can expect the same kind of business transformation when you adopt cloud computing. The virtualization era helped IT shops realize cost savings for certain applications, but the cloud era brings an entirely different promise – the promise of business acceleration.
Run Like Rackspace
Rackspace founded OpenStack in 2010 and operates the world's largest OpenStack-powered cloud. Since launching our public cloud on OpenStack in 2012, our teams have pushed over 1,500 non-disruptive updates. They bring the combined knowledge of millions of man-hours managing and operating cloud systems.
With Rackspace Private Cloud, you can "Run Like Rackspace." You can have an OpenStack-powered cloud in your own data center, with all the operational benefits of our experts managing, monitoring and supporting your private cloud. You can re-purpose your IT resources to activities that add value to your business.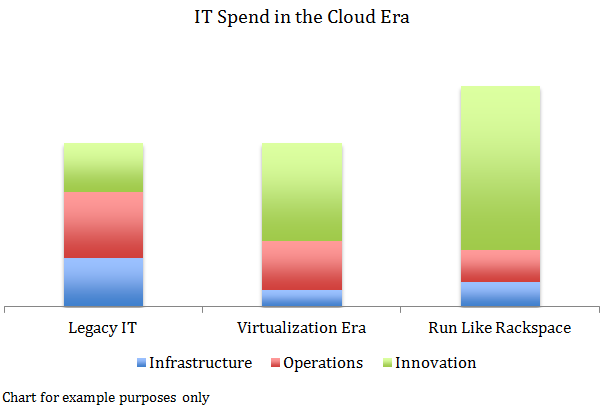 When you Run Like Rackspace, you will be more agile, more scalable and more innovative than ever before. Your operations staff can be repurposed to DevOps engineers.  Your hardware can be completely commoditized. Your focus can be on growing the business and not on operating the data center.
In the next few weeks, watch this blog for more information about what it means to Run Like Rackspace. We will cover support, operations, monitoring and software development topics.
As we've said before, good cloud is 25 percent software and 75 percent operations and support. Don't be fooled by a vendor offering cloud software without operations expertise. If you want to accelerate your business, choose Rackspace Private Cloud. For about the price of a traditional software license, we will manage and support your private cloud, and you will Run Like Rackspace.