Part of our promise to you is that we protect your servers – when they are physically in our data centers, and when they're 30,000 feet in the air.
This past weekend, we conquered land and sky to successfully migrate nearly 200 white boxes from our IAD data center our DFW data center. The migration allows us to consolidate operations into larger, more cost- and energy-efficient data centers. It also allows customers to take advantage of the full Rackspace Hybrid Cloud portfolio. The migration was also a chance for us to flex the muscle of Fanatical Support®.
The 200 servers were relocated to Dallas in just under eight hours with the help of our Dedicated Migration Team. The migration took a great deal of planning – it was a precise choreography. It had to happen on off-peak hours and there had to be minimal downtime.
We started the migration with a prep meeting to make sure that our Rackers in both data centers were ready. Our Dedicated Migration techs shut down the servers remotely using scripts, which were also programmed to change the IPs and convert the legacy networks to the networks required in DFW.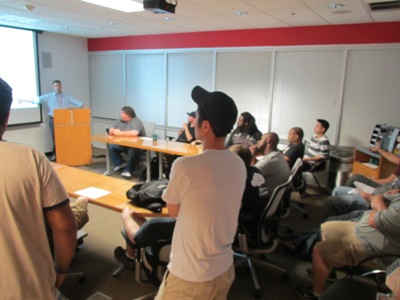 Once the servers were shut down, we placed them on pallets that were pre-staged and wrapped them to protect them from outside elements like rain and dirt. We secured the servers to the pallets using cargo bands.
Each pallet had a ShockWatch warning sign, which allowed us to keep track of any pallets that received a knock during the move. The signs had liquid in a tube that would turn red if they received a big bump or drop. The pallets were then carefully loaded onto trucks and taken to the airport near IAD for departure.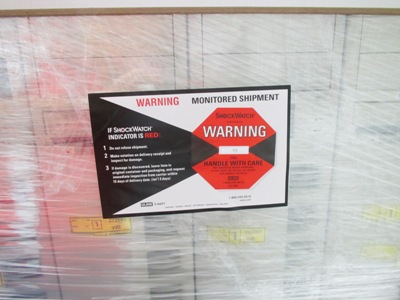 We arrived at the airport shortly after 1:00 a.m. Saturday morning and, using forklifts, immediately started loading the pallets onto a waiting Boeing 727 that we chartered exclusively for the migration. The plane was ready to take off one hour later.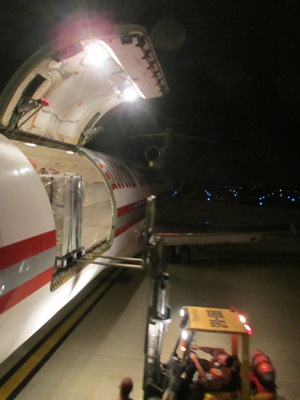 The flight itself was a noisy 2 ½ hours – but the leg room was unparalleled (and the servers didn't seem to have any complaints).
Once we arrived in Dallas, it took just 15 minutes to unload the plane. From there, we loaded the servers onto waiting trucks, and headed to DFW for the handoff.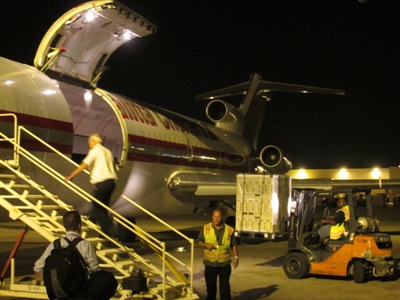 At DFW, the Rackspace migration team was prepared and waiting for the white boxes – it was like a relay racer passing the baton to the next runner.
More than 10 Rackers consoled into servers at one time in one row. All of the firewalls were pre-staged and configured for these servers, allowing us to plug and play for the most part – all we had to do was replace finicky power supplies on a handful of boxes.
We had most of the boxes online at 7:00 a.m. Saturday morning, and the migration was closed out two hours later.
It's not easy to take nearly 200 servers on a cross-country move. It takes careful planning to execute this type of migration.  Moving your servers roughly 1,200 miles to ensure you have the best possible service is just another way we support you.