SharePoint Conference 2012 Recap And Resources
Filed in Cloud Industry Insights by Tom Resing | November 16, 2012 10:43 am
Change is everywhere. And it can be exciting. The fireworks at the end of the SharePoint Conference 2012[1] attendee party put a punctuation mark on the energy and excitement felt about upcoming changes.
How do the changes announced at SharePoint Conference[2] affect you and me? SharePoint 2013 and Yammer will affect some more than others. The new products will affect some sooner than later. Attendees learned a lot and are using their new knowledge to figure out a strategy for change. You can too.
Resources For You
My co-worker Jennifer Mason gave her perspective earlier on the keynote[3]. Her big takeaways? Microsoft wants you to consider SharePoint in the cloud and Microsoft is putting the user of SharePoint first in their product design. I also noticed a new message about Yammer. Yammer's Silicon Valley startup influence is expected to effect change of product development practices at Microsoft. See for yourself. The keynote is available[4] on YouTube in HD (click the image to watch).

[5]
Yammer, the cloud and the new App Model for SharePoint 2013 and Office 2013 were the focus of all of the breakout sessions I attended.
The App Model
The App Model is a huge shift that will open opportunities for many developers who may have never considered SharePoint Development before. In the past, SharePoint Development was done on a SharePoint Server only and in .Net only. The App Model removes both those requirements. SharePoint Development can be done in Visual Studio on the desktop and SharePoint resources can be used by code run on servers that don't even run Windows!
Microsoft has released a ton of new information for you to learn more about the Yammer changes and the App Model this week to compliment conference announcements. Here are a few examples:
Office Web Apps Server overview[6], Microsoft TechNet, Updated November 13th
Announcing the Latest Release of Office Developer Tools[7], Apps for Office and SharePoint Blog, November 12th
Yammer SKU plan and pricing: details direct from SharePoint Conference[8], Microsoft SharePoint Team Blog, November 12th
Rackspace also released a bunch of content for you this week to help with the changes including:
A free 45-day trial of SharePoint 2013[9] for you to learn on
Five blog posts[10] from four Rackspace SharePoint expert conference attendees
Rackspace Delivers End-to-End Services for SharePoint[11], announcing our new SharePoint 2013 offerings
Tom's Conference Photo Album
Part of the excitement of the conference is the community of attendees. Now that I've shared some technical details, I want to share a little bit of that community in photos I took or was in.
I wish I had pictures of all the great things my co-workers were doing at the conference, but I don't. In lieu of that, I'll share some highlights of the conference events and attendees I encountered.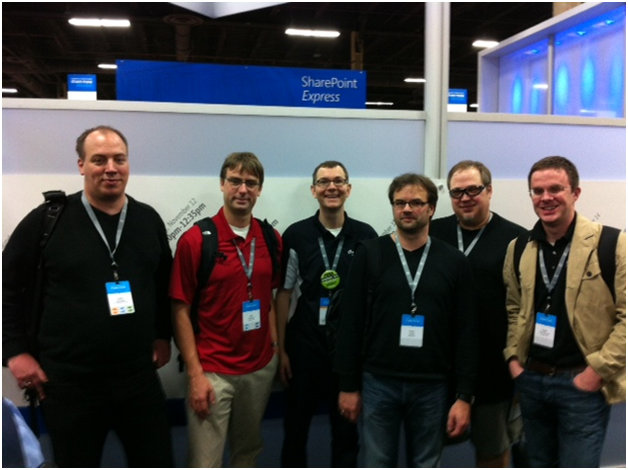 Above is a picture of me in the middle of five other Microsoft Certified Masters in SharePoint. Overall, around 60 of the about 120 MCMs were at the conference, highlighting the importance of the conference in the minds of some technical leaders.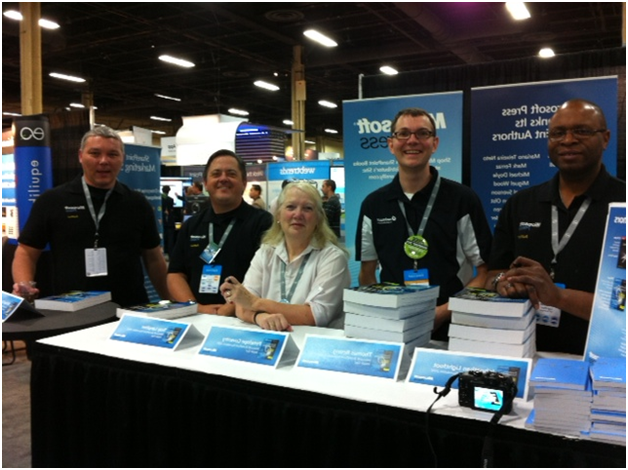 I participated in a book signing with four of my Microsoft Press co-authors Wednesday. Most of the SharePoint book authors were present at the conference and many were signing books.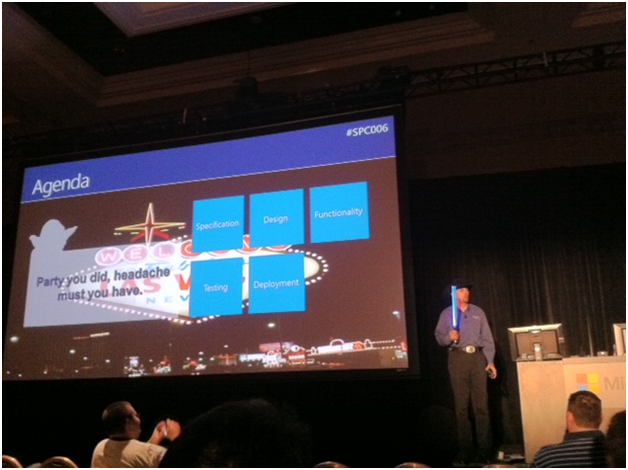 Seeing as Rackspace is headquartered in Texas, this picture of my friend Eric Shupps is appropriate. Eric, who goes by the SharePoint Cowboy, encouraged attendees with good humor in an excellent technical presentation I attended.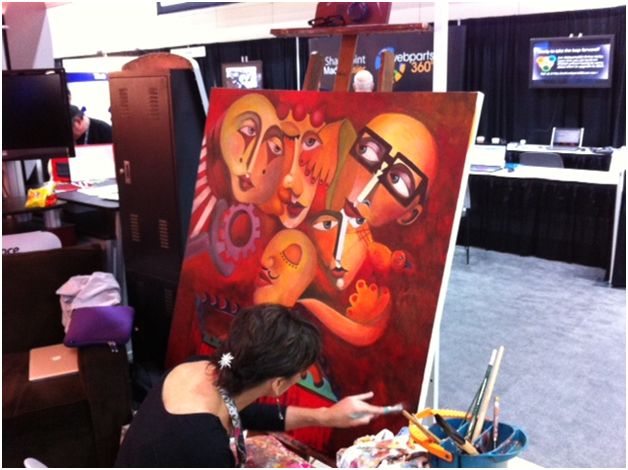 Throughout the week, the Rackspace booth employed an artist making a picture inspired by our MVPs and one MCM. I'm the one with the eight-bit glasses.
Watch for more informational posts following up the conference on the blog feed of our experts at http://sharepoint911.com[12].
Endnotes:
SharePoint Conference 2012: http://www.mssharepointconference.com/Pages/default.aspx
changes announced at SharePoint Conference: http://www.prnewswire.com/news-releases/microsoft-shines-the-spotlight-on-the-new-sharepoint-178908481.html
her perspective earlier on the keynote: http://www.rackspace.com/blog/a-rackers-perspective-on-the-sharepoint-conference-keynote/
keynote is available: http://www.youtube.com/watch?v=BLsIjvIyAxo
[Image]: http://www.youtube.com/watch?v=BLsIjvIyAxo
Office Web Apps Server overview: http://technet.microsoft.com/en-us/library/jj219437.aspx
Announcing the Latest Release of Office Developer Tools: http://blogs.msdn.com/b/officeapps/archive/2012/11/12/announcing-the-latest-release-of-office-developer-tools.aspx
Yammer SKU plan and pricing: details direct from SharePoint Conference: http://sharepoint.microsoft.com/blog/Pages/BlogPost.aspx?pID=1049
free 45-day trial of SharePoint 2013: http://www.rackspace.com/enterprise_hosting/sharepoint/
Five blog posts: http://www.rackspace.com/blog/tag/sharepoint-conference/
Rackspace Delivers End-to-End Services for SharePoint: http://www.rackspace.com/blog/newsarticles/rackspace-delivers-end-to-end-services-for-sharepoint/
http://sharepoint911.com: http://sharepoint911.com
Source URL: https://blog.rackspace.com/sharepoint-conference-2012-recap-and-resources/
---