Microsoft's SharePoint Conference 2012 has officially begun! Sunday night was the big expo hall opening reception at the Mandalay Bay Casino and Hotel in Las Vegas.
There are about 10,000 attendees this year, making it the biggest SharePoint Conference ever. The expo hall is buzzing with activity and packed with vendors, as well as a very big Microsoft presence. This year Microsoft has put together a large area in the center of the expo hall, with small kiosks representing several different Office products, as well as an SP Express session area. The SP Express sessions will be small, 15-minute sessions which highlight and demonstrate SharePoint and Office 365. Microsoft has also put together a "Community Lounge," which has some fun things going on. There is a community wall and a timeline that you can write on, as well as kiosks representing Microsoft User Groups, MVPs, Women in SharePoint and much more.
Rackspace has an awesome booth at the SharePoint Conference this year, with some swag that has been a big hit. Hundreds of people have visited the booth already, and we have just begun. It's going to be an exciting week! Here is a picture of some of our team working in the booth: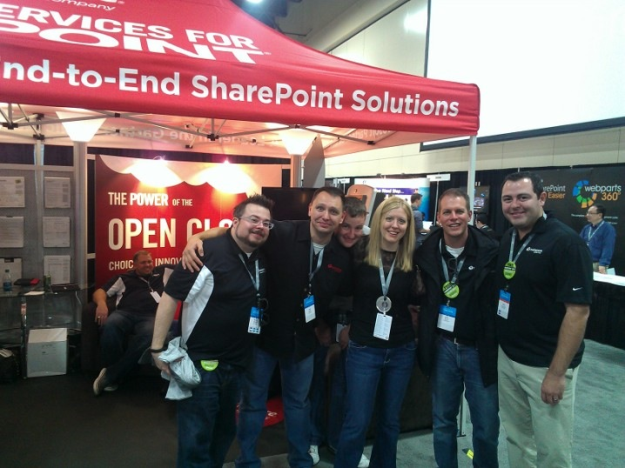 Sunday evening, I got a chance to work at a kiosk in the Microsoft Community Lounge, representing SharePoint User Groups. Since I run the Birmingham, Ala. SPUG, I took a turn representing user groups around the world. There is a large map of the world, and we were placing pushpins on each city as people came to the kiosk and let me know where they live. This is a great way to see how widespread the community is. Here's a picture of the map as it stands now. I imagine that by the end of the week, it will be pretty filled up.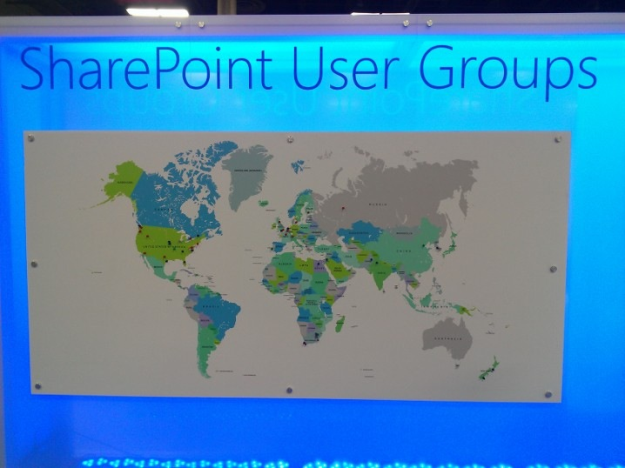 Be sure to swing by the Rackspace booth and stop by our sessions at SharePoint Conference 2012.