Today is a special day. After months of hard work, the SharePoint team at Rackspace is finally ready to flip the switch on our new Per-User SharePoint online offering and make it available to all. This new offering will take the Fanatical Support® that only Rackspace brings to the SharePoint table and, through a cost-effective pricing structure, make it available to countless new businesses.
During the early stages of Per-User development, I had one request that popped up quite often: This environment can have absolutely no vendor lock-in. 
So what does this mean for you, our current and future customers? No vendor lock-in means that we are making a promise to our beloved SharePoint customers that few others can: If you decide to leave us, regardless of the reason, we will promptly provide you with a backup of all your site collections (read: data) for free. 
For reasons unknown, other companies have made getting data back into its owners' hands more difficult than it should be – almost as if they're holding it hostage.  That no longer needs to be the case.
If you're interested in learning more about this offering, you can take advantage of our free SharePoint trial.
Now, if you do decide to take your ball and go home, you would be losing access to that Fanatical Support I mentioned earlier…and it's worth noting that our support goes deeper than making sure your SharePoint "works."
Want an example? In the next month we will provide all customers with free, customizable master pages built by Rackers and SharePoint MVPs John Ross and Randy Drisgill.  These templates will take SharePoint from bland to grand (sorry, couldn't resist the rhyme) in a matter of minutes. You will be able to change colors, add logos and much more.
Here is an example of one of the templates before customization: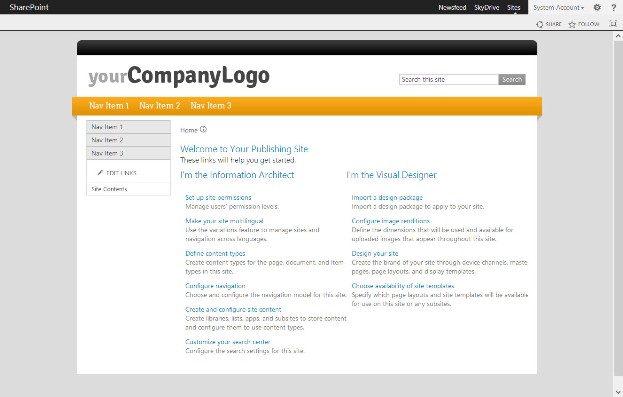 And here it is after just a few clicks of the mouse (added a logo…changed some colors…viola!):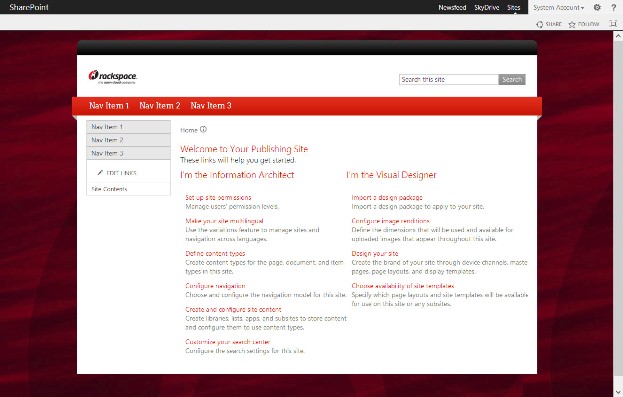 One final note: We're just getting warmed up.
Visit our website for more information about the SharePoint services we offer.