The demand for Big Data solutions continues to grow, and to help you tackle Big Data workloads, we have partnered with Hortonworks, the premiere open-sourced Apache HadoopTM enterprise distribution, to provide application support and best-in-breed architecture design.
Last fall, we partnered with Hortonworks to develop and release an on-demand Apache Hadoop service on the Rackspace Open Cloud. Since then, we've expanded our offers to include solutions for both managed dedicated servers and the Rackspace Private Cloud powered by OpenStackTM.
Hortonworks is a natural choice for us in the Big Data space due to its adoption of open source technology and its contributions to the Apache Hadoop community. Hortonworks is also an industry thought leader in regards to complex design of Big Data solutions. Together, Rackspace and Hortonworks bring a vast amount of expertise to these offerings.
Through our partnership, we offer three different deployment models to solve your Big Data needs based on the size and complexity of your workloads. Here is a look at each one:
Apache Hadoop on Managed Dedicated Servers
Production Hadoop clusters often require customized amounts of compute, memory and storage. Based on the type of job the application is performing (Map Reduce, Batch Processing, Custom Analytics) you may need a specialized configuration to ensure your clusters scale and meet the demands of current workloads. Our engineers will work with your team to design the most optimal cluster for your environment. Are you dealing with sensitive information, payment information or compliance regulated material? Rackspace can combine your Hadoop clusters with security appliances and services like intrusion detection, log management, web-application firewalls and vulnerability scanning to ensure your data complies to these criteria.
Apache Hadoop on the Rackspace Open Cloud (Coming Soon)
To help our customers explore Big Data technologies, we are developing an on-demand cloud-based Hadoop offering that leverages the Hortonworks Data Platform. This service will give you access to a fully configured and optimized Hadoop environment with no upfront costs. You can purchase these clusters by the minute and run your queries or map-reduce jobs without worrying about the underlying infrastructure. You will also gain access to popular Hadoop tools like Hive, Pig, and Sqoop as part of the service. We have made several enhancements to the cloud infrastructure in order to remove common bottlenecks and pain points associated with running Hadoop in the cloud. The on-demand service will be available to all Rackspace Cloud customers in the third quarter of 2013.
Apache Hadoop on Rackspace Private Cloud powered by OpenStack
Rackspace Private Cloud Software is the free OpenStack-powered technology that allows you to have a Rackspace cloud anywhere, in your data center or ours. You can download the open-sourced software from our website. We are available to provide deployment and support of the Private Cloud Software and we can make recommendations on how to configure your cloud for the HDP distribution (see below).  In February, the OpenStack foundation certified the Hortonworks Data Platform for use with the OpenStack framework.  Read more about configuring your own cloud to work with HDP here.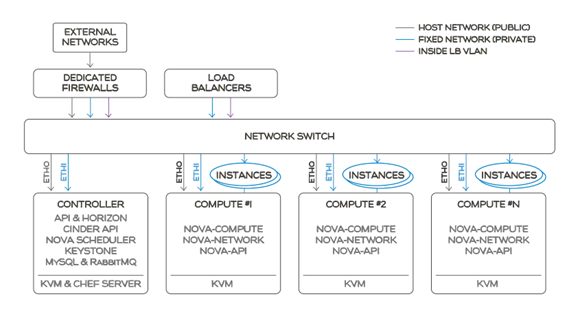 Come visit us at the O'Reilly Strata Conference in Santa Clara
Rackspace Cloud experts will be on-hand at the O'Reilly Strata Conference 2013 located in Santa Clara, Calif. from February 26 to February 28. Come by our booth and learn about upcoming Big Data products and hear how many of our partners are using Rackspace to power their Big Data platforms. Be sure to pickup a contest card to be entered in a drawing to win a Raspberry Pi.
Want to find out more about Big Data at Rackspace? 
Visit http://www.rackspace.com/bigdata or email bigdata@rackspace.com