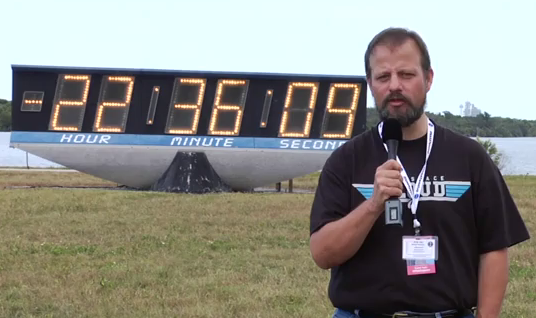 If you are a space enthusiast, you've probably landed on the Spacevidcast website at one point in time. Racker, Robert (Robot) Taylor, recently interviewed Benjamin Higginbothom, founder of Spacedvidcast at the NASA tweetup for STS-133, the final discovery launch.
"We do things like cover space shuttle launches in high definition, something that even NASA doesn't do. So when you go to our web site, you can get an actual 1280 X 720p streaming version of a space shuttle launch, or anything we can get our hands on in high definition. We cover any rocket launches. We have live weekly shows. We've got space pods. We have a ton of media that we throw at you, and we give you a ton of resources and tools to say, 'Hey, this is really cool'. We build on online community and engage with people with Twitter, Facebook, IRC realtime chat and bring it all into the show live."
During a shuttle launch, the viewership will be larger than that of CNN and MSNBC combined. Consequently, Spacevidcast needed a hosting solution that scales up for big events such as a shuttle launch but scales back down once those events conclude – a perfect use case for the cloud.
When Spacevidcast made the decision to move to the cloud, they chose Rackspace Cloud Servers. More than just taking advantage of the cloud technologies, Benjamin sees the support system from Rackspace as a huge benefit, a reason they chose Rackspace over Amazon.
Benjamin's passion is to get people excited about "going back to the stars, the Moon and on to Mars" and keeping Spacevidcast online allows him to fulfill that passion.
Click below to see the full interview.