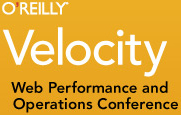 O'Reilly Media is putting on it's 3rd Velocity Conference, the Web Performance and Operations conference this June 22nd in Santa Clara, California. "Velocity attendees are a unique tribe of disaster gurus, special ops professionals, software developers, academics, sysadmins, developers, engineers, and more. They're the hidden heroes that keep the trains running on time, the people you call at 3am when your site is down. They're the most skilled at repeatedly rising to the challenge of finding solutions to complex problems and are always on the leading edge of emerging technologies and solutions."
This is right up our alley and wouldn't pass up the opportunity to be at Velocity. Bret Piatt will be speaking on Cassandra. As you know, we are fully committed to the Cassandra project. With the amount of data increasing on the web, Cassandra aims to handle the modern workloads traditional relational databases cannot.  Rackspace itself has a ton of data that we generate from our switches and routers and the rest of our infrastructure. Cassandra will help us a lot with that as our volumes continue to increase.
Here are the details of the speaking session:
Cassandra Workshop
Bret Piatt (Rackspace Hosting)
11:00am Tuesday, 06/22/2010
Location: Operations Ballroom CD
Cassandra aims to run on top of an infrastructure of hundreds of nodes (possibly spread across different data centers). At this scale, small and large components fail continuously. The way Cassandra manages the persistent state in the face of these failures drives the reliability and scalability of the software systems relying on this service.

While in many ways Cassandra resembles a database and shares many design and implementation strategies therewith, Cassandra does not support a full relational data model; instead, it provides clients with a simple data model that supports dynamic control over data layout and format. Cassandra system was designed to run on cheap commodity hardware and handle high write throughput while not sacrificing read efficiency.
We hope you can join us.