While in Montreal for the International Startup Festival, I got to go on a Dishcrawl. The concept will be familiar to anyone who has ever been on a pub-crawl. Instead of guzzling gallons of booze at multiple bars, you eat copious quantities of food at a number of restaurants.
Dishcrawl, a Rackspace Startup Program participant, was founded by Tracy Lee and, while she organizes many of the crawls, she isn't going it alone. The startup has a team of dedicated organizers in cities across the North America, who help to ensure each crawl features a sufficient dose of local fare.
Lee says the inspiration for Dishcrawl was simply to bring people together over food. What isn't so thoroughly publicized though is that her dish crawls started a means to evangelize the startup's first concept, a Yelp-like concept that allowed eaters to make informed orders by recommending specific dishes at restaurants. Like many startups, however, the first idea wasn't meant to be.
Photos from Startup Hustle with Dishcrawl MTL, MTL Girl Geeks, MTL New Tech. Click here to see all photos.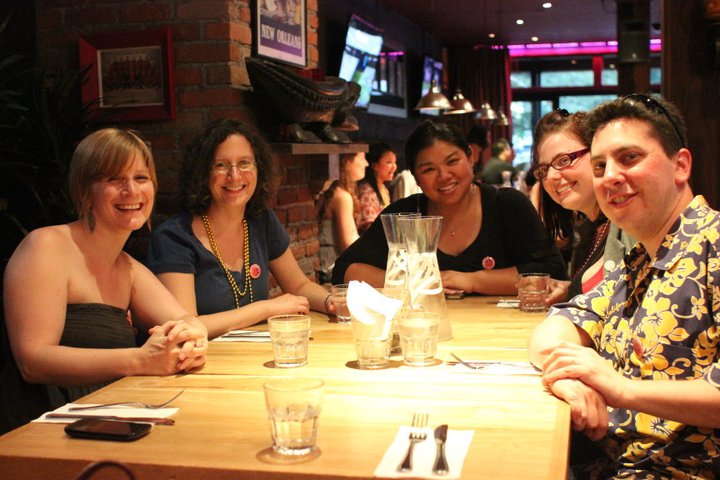 After seeing that her dish crawls were generating most of the startup's attention, the team elected to pivot shift its focus entirely to dish crawling. Since then, Dishcrawl zeroed in on building out its community and on rapidly adding new cities. Now Lee says that the team is, "all about the the warm fuzzy feeling that Dishcrawl creates."
Having now participated in a crawl, I can say that the concept is a good one. Connecting individuals in the real world around eating — something we all share in common — definitely seemed to resonate with the attendees. And if Dishcrawl can woo a crowd of discerning Startup Festival techies it's unlikely that the team will see much resistance as it expands to new regions.
Each crawl costs about $25 and the team is currently on a whirlwind tour of North America. Attendees are taken to four restaurants where they meet the chef and sample these establishments' most-eaten dishes. So take a look at the schedule and signup when Dishcrawl crawls through your town.
We're excited to have Dishcrawl in the Rackspace fold and the Rackspace Startup Program is looking forward to the team's next steps.
Working for a startup? Always dreamed of starting your own startup? Check out the Rackspace Startup Program to learn how Rackspace is helping the future of startups.