Startup mania has taken over Central Texas as SXSW Interactive officially kicks off tomorrow (Friday, March 8) in Austin..Startups from all over the globe will converge on the Lone Star State, including entrepreneurs who arrived at Rackspace yesterday participating in StartupBus, where groups of Buspreneurs created, built and pitched their startup ideas in the span of a Spring Break road trip.
This morning, the StartupBus pitch finals took place at The Center, Rackspace's new events space, with great fanfare and gusto. Check out the list of Buspreneur teams that made it to the final pitch session:
CareerMob from NYC – connecting veterans with a career outside the armed forces in the civilian sector
Cloudspotting from Mexico – a creative site for people who love clouds, to make the sky their canvas
Exversion from NYC – focusing on data collection and storage
ghostPOST from San Francisco – live, anonymous chatting
grassroots.io from NYC – political advocacy online allowing users to create viral campaigns, raise money online and connect with politicians
nextchapter from Chicago – a full service book publishing company
USupply.me from Mexico City – changing the way buyers and suppliers do business
Pitches were pitched, questions were posed and the esteemed panel of judges deliberated who was going to be crowned StartupBus champ. While the judges were sequestered, the StartupBus Alumni pitches were witnessed by all. The winner and runner-up of today's Buspreneur Battle will face off with the alumni winner tomorrow in Austin to determine the StartupBus All-Stars.
And, the Buspreneur Battle winner for 2013 is – drum roll please! – CareerMob. CareerMob takes the StartupBus crown with runner-up nextchapter coming in a close second. Congratulations to all of the StartupBus teams from New York City, San Francisco, Chicago, Tampa and Mexico City.
SXSW Startup Crawl
So, the StartupBus final ends our chapter here in the Alamo City and finds us heading up the road to the Capitol of Texas for the SXSW Startup Crawl.
What is Spring Break for geeks without a good old fashion pub crawl, startup style? Check out some of the best in Austin tech, have a free beer or beverage, drop off a resume, pick up some free swag, see the startup office space or just kick back before the melee that is SXSW. The startup crawl kicks off at 4 p.m. this afternoon at Capital Factory, a Rackspace Startup Program partner and a community of the hottest tech startups in Austin, located in the center of downtown at 701 Brazos St. on the 16th floor.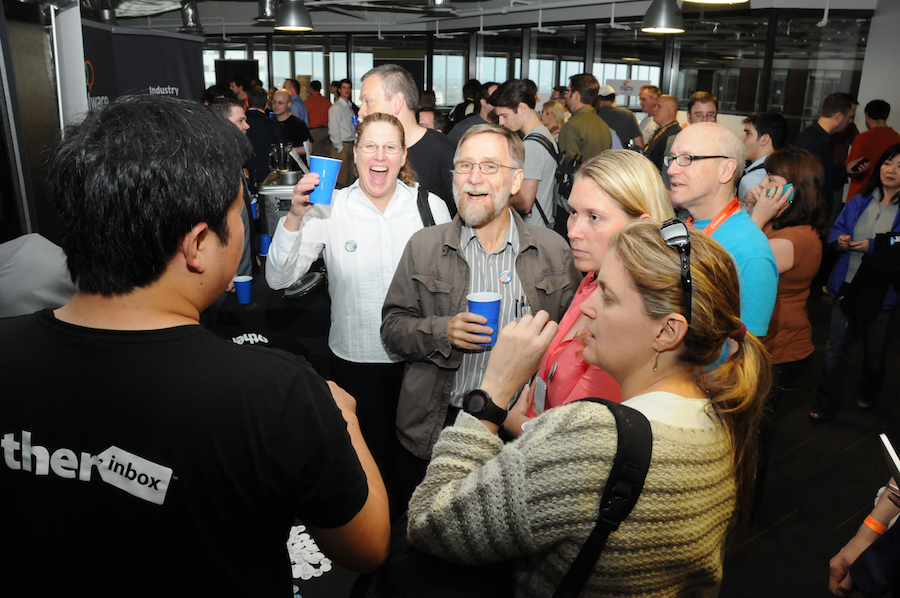 Last year's Startup Crawl had more than 40 companies and 3,500 party goers. This year promises to be bigger and better, with an expected 5,000 participants jumping on the bus. You don't have to have a badge to participate and shuttle busses run from stop to stop until 9:30 p.m. And, this year's SXSW Startup Crawl is a Rackspace sponsored event, so that makes it even more fun to participate in all the startup fun.
That's right the fifth annual SXSW Startup Crawl is on and here's a list of startup to visit:
Apptive
BlackLocus
Campus Slice
Civitas Learning
ClickJolt
CloudBees
CopperEgg
DreamIt Ventures
Engine Inc.
Epicom
Expero
Goodybag
Greenling
HomeAway
Hurl
Infochimps
Lingo LIVE
Lynx Laboratories
Main Street Hub
Mass Relevance
mobi
Mutual Mobile
Oceanus Automotive
Offers.com
OtherInbox
Ordoro
Outbox
OwnLocal
Pivit
Smart Picture Technologies Inc.
Spanning
Stormpulse
Tabbedout
TapFire Mobile
Taskbox
Tasktop Technologies
The Incubation Station
The Site Slinger
The Tech Map
Ticketbud
Umbel
UMeTime
uShip.com
We Are Austin Tech
WhaleShark Media
Whit.li
Whoosh Traffic
WP Engine
Zello
SXSW Startup Crawl 2013 is just one of many events Rackspace is participating in around SXSW Interactive 2013. And if you want to find us on Twitter, be sure to keep an eye on the hash-tag #SXRackspace.