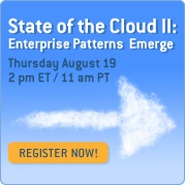 rPath will be leading a webinar panel discussion, State of the Cloud II: Enterprise Patterns Emerge. Our own John Engates, Rackspace CTO, will be part of the panel.
Last year, the cloud cognoscenti set out to clarify definitions—what is cloud? What isn't cloud? What does it mean for the present and the future?
This year, the focus is on adoption patterns and entry points—where enterprises are making use of cloud computing, finding value and gaining traction with their initiatives.
Join this important panel discussion to hear from some of the leading cloud thought leaders and practitioners on the paths and patterns surrounding enterprise cloud.
The discussion will be moderated by Dana Gardner, principal analyst at Interarbor Solutions, prolific ZDNet blogger and esteemed thought leader.
Panel participants include:
Randy Bias, CEO, Cloudscaling
Michael Crandell, CEO, Rightscale
John Engates, CTO, Rackspace
Sheng Liang, CEO, Cloud.com
Erik Troan, CTO, rPath
You may submit questions before and during the event via Twitter: #SOTCII
Register now to reserve your spot for what will surely be one of the definitive conversations on the State of the Cloud.
Date: Thursday, August 19, 2010
Time: 2:00 pm Eastern Daylight Time (New York, GMT-04:00)
Duration: 1 hour