Have you ever missed an important instant message when you were out for lunch? Or spent 10 minutes searching emails for a conversation with a colleague only to remember it was over IM? Have you ever thought a conversation would go smoother if only we were face to face?
Today, Rackspace is launching Microsoft Lync, a unified communications tool that solves these problems for you and your colleagues. Lync is a collaboration tool that connects people anywhere through instant messaging, voice and video calling, online meetings and enabling unified communications. Lync gives you a consistent and integrated single-client experience across multiple devices so you can focus on being productive rather than dealing with management of the underlying collaboration infrastructure.
With Lync you will receive an email when you miss an IM and you can reply to the sender through email. IM conversations in Lync will return as search results in Outlook. You can use the video calling capabilities to connect and communicate with team members in other locations. If your company currently uses Microsoft Exchange and Outlook for email then Lync is the ideal unified communications tool for you and your business.
Today, we have two flavors of Lync available to Rackspace customers: Hosted Microsoft Lync (multi-tenant), and Dedicated Microsoft Lync (on-premises solution hosted at Rackspace). Offering two choices ensures you can pick the solution that's right for your business and your users. This makes Rackspace's Lync portfolio one of the most comprehensive in the industry, and both versions of Lync include Rackspace's award-winning Fanatical Support.
Let's look at the two Lync offerings in more detail:
Hosted Microsoft Lync
Hosted Microsoft Lync at Rackspace is a multi-tenant Lync service that is an add-on to Rackspace's Hosted Exchange offering. With Hosted Microsoft Lync you get:
SSL Encrypted instant messaging
Video calling (one-to-one)
Presence
Secure file transfer
Seamless integration with Outlook, Outlook Web App and mobile devices
24x7x365 Fanatical Support
Financially backed 100 percent uptime guarantee
You can read more about Hosted Microsoft Lync or sign up for a 14-day free trial.
Dedicated Microsoft Lync
The second flavor of Lync at Rackspace is dedicated hosting of Lync Servers at Rackspace. Dedicated Lync is a single-tenant, standalone solution that seamlessly integrates into your existing Exchange and SharePoint environments, whether they're hosted in your data center or ours.
Dedicated Lync also offers a full-unified communication experience by integrating with your PBX and even complete PBX replacement. I will be talking more about that in a later blog.
Dedicated Lync is perfect for organizations that are looking for:
Lync experts to run your Lync servers
Reduction in total cost of ownership
Compliance with security requirements
The ability to bring your own Lync licenses
Academic licensing
A highly customizable solution
Unified communication solution (PBX integration or replacement)
Dedicated Lync gives you all the features of Hosted Lync and more, including persistent chat rooms, Skype integration, multi-party video and web conferencing, audio-conferencing and whatever your requirements may dictate.
Read more about Dedicated Microsoft Lync and how to get it here.
Feature comparison between Hosted Lync and Dedicated Lync at Rackspace: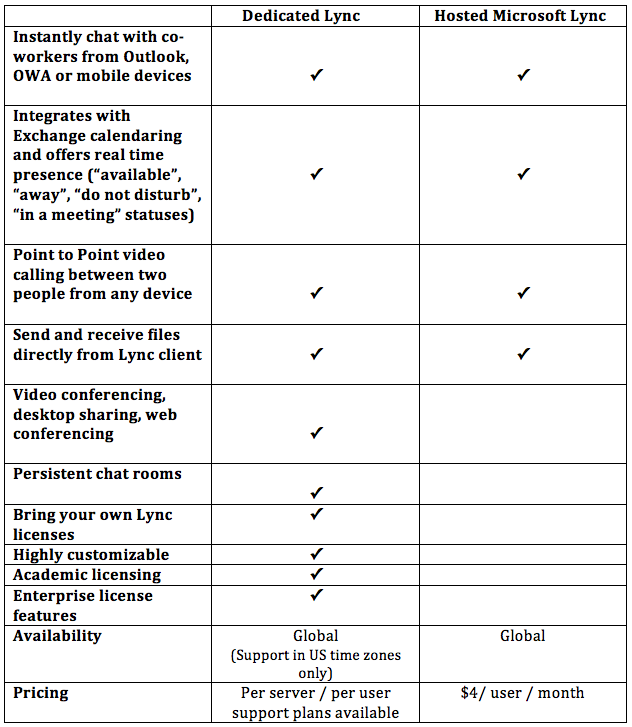 If you are not sure which Lync flavor is right for your business, or if you have additional questions, hit us up on chat or call us at 1-866-201-7852 (UK: +44 (0)20 8712 6542).