Clayton Selby and his team started SocialREST in fall 2012 at a startup event at Geekdom, a collaborative workspace for technologist in San Antonio. They built a tool that aims to close the referral loop on social media. SocialREST uses conversion metrics information to tell the difference between posts that are simply driving up vanity metrics and those posts that are driving conversions. It uses valuable customer insights to determine which users are the top brand advocates and which are the most engaged influencers.
Selby, SocialREST's founder and software developer, holds a Bachelor of Science degree in Information Technology and Entrepreneurship degree from Abilene Christian University. Since age 12, he has been developing software. He displays a genuine passion for technology. Prior to launching SocialREST, Selby worked as a Software Developer for USAA, creating social media and mobile applications. When not in front of a computer, he loves playing violin in the local orchestra, competing in ultimate Frisbee and windsurfing.
Selby took the time to talk with the Rackspace Startup Program to discuss how startups can find a core group of great people with varied skills and the importance of balance between product development and lead development. What follows are his thoughts on bootstrapping a startup focused on brand influences in the social space:
What was the staffing plan for SocialREST?
With our team, we've been fortunate to find a core group of great people who have skills in many areas and are also excited about what we're doing. Since we're still a very small team, we have two people actively doing product development and two on the sales and marketing side.
But in reality everyone picks up tasks as needed. One tactic that really worked well with us was asking ourselves "what is it that I really want to do here?" Is there any point in leaving the security of nine-to-five job in order to create a company you aren't passionate about? If you work at a startup, make sure you are doing something you love! Finally, don't get stuck on putting red tape all around your business from day one. It's OK to organically find your roles and don't get hung up on titles.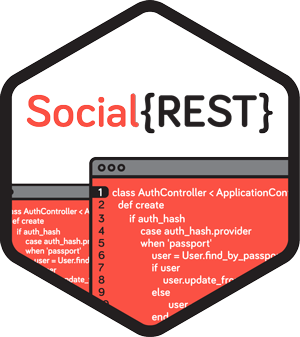 How do you go about acquiring customers?
Our best leads that we've worked with have, not surprisingly, been within our existing network of contacts. That's something that has been extremely important to us. People talk about the importance of networks, but I don't think it can be overstated. Focusing on building a network especially during times when you don't need anything in particular can help down the road. And you meet really great people along the way, so it's very important.
What business lessons were learned building SocialREST?
The balance between product development and lead development is something where you need to add up your opportunity cost and understand that both are equally important. It's something that you must always be checking on yourself to make sure that balance is still being productive and moving forward.  Our team has fallen victim to creating a lot of really cool code, and that code never seeing the light of day. Always make sure what you are doing is relevant. If there are no customers interested in what you are doing, than first find one that is!
What business challenges did you run into?
Our original idea was one that got decent feedback, but it didn't make people say, "Wow, I could use that right now." As we talked to mentors and prospects, it took some time to get to that point. But now that we have that product, it makes the lead conversations much easier than before.
What were the 'What to Do' and 'What Not to Do' while building SocialREST?
Don't ask, "What if they say no?" Instead, treat every conversation as a learning opportunity.
What was the Good, the Bad & the Ugly of establishing your startup?
The good is the complete freedom to set the priorities and the ability to grow our skills so quickly. The bad is not always having enough time to accomplish everything we want to accomplish and getting distracted (you actually can't do every idea that comes into your head). The ugly–but rewarding–is combining the visions of each team member into one for the company. It can be tricky, but when you pull that off, it becomes the foundation of future success.
Did you run into any stumbling blocks or pivots while establishing SocialREST?
Actually, a big stumbling block is treating your pivots as failures. Treat them instead as progress.
What straight up business advice would give to a startup?
Remember that the ability to dream up a fanatical idea and make it a reality is a privilege. There are billions of people in this world who don't have the resources that we have at our fingertips, and when you can wake up in the morning grateful for such opportunities, it makes the struggles so much easier.

The Rackspace Startup Program thanks our favorite Wildcat, Clayton Selby, for taking the time out of his busy schedule to share his thoughts. Contact the Startup Team for more information on hosting your startup on the Rackspace Cloud.