Straight Up Startup is a new feature brought to you by the Rackspace Startup Program in which we interview entrepreneurs and upstarts to get their insight on starting a business. Here, startups give  you straight up insight on lessons learned, challenges and wins along the timeline of building a business.
Bob Summers has developed and marketed commercial software applications for consumers and enterprises since 1994. He is currently Chief Geek at Friendeo, his fifth startup. Friendeo brings the joy back into video entertainment by integrating social context into the TV viewing experience, putting an end to there being 1,000 TV channels and nothing to watch. Bob is passionate about creating compelling online video experiences with iSpQ video chat and desktop video conferencing software for over three million users from 196 countries and territories thus far.
Named "Young Entrepreneur of the Year" by the Montgomery County Chamber of Commerce in 2002, Bob plays an active role in Southwestern Virginia's economic development by serving on the board of directors of the NewVa Technology Council and sponsoring FIRST Robotics. He has written two books that examine the Internet video conferencing world, "Official Microsoft NetMeeting Book" and "No Walls, No Limits: Unleashing Exchange Conferencing Server". Along with his duties at Friendeo, Bob is actively developing a seed and early stage venture fund for the Blacksburg/Virginia Tech area. The fund will be housed at TechPad, a dynamic co-working space that he founded.
A true serial entrepreneur, technology geek and startup specialist, Bob Summers took the time to talk to the Rackspace Startup Program about what it takes to get an online business up and running. He has gone through the process of building a company five times over, and what follows are his thoughts on what's necessary to create a successful startup.
What was Friendeo's funding strategy?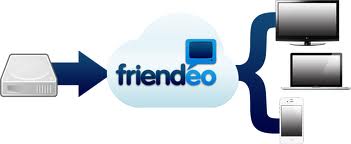 Self fund and bootstrap. Running lean until we reach a key inflection point is the funding strategy. The inflection point includes key product development milestones, customer acquisition and market validation.  Amount raised and source depends on the magnitude of the growth opportunity discovered.
What business lessons were learned launching Friendeo?
Path to revenue is a challenge in consumer applications where free is the norm. Only a few apps can reach the scale which advertising makes sense as a business model. Patience and an ability to listen carefully to the customers are critical. This is especially true when selling into the enterprise where a sales cycle can be six to 12 months or more.
What challenges did you run into?
Finding and attracting the right customer is a significant challenge. Marketing can only be effective when you know who you are targeting, otherwise it is a waste. It has been a challenge to find the right first customer base for our product.
Our customer acquisition strategy was organic and viral. The first release of Friendeo was in July of 2011 with an iPhone and Facebook application. A core user base grew organically which has yielded a Facebook reach approaching two million friends. Quality of the service being delivered to new customers is measured in number of minutes watched per day. Higher minutes indicate that the service is creating a value to the customer.
What wins has Friendeo achieved?
Through a series of unpredictable connections, Friendeo found a promising opportunity applying its technology on unique and rare physical networks. The result is sponsorship from two big players in the space.
What was the 'Good, the Bad & the Ugly' of taking your startup to market?
In the early phases of marketing the product we posted to the users newsfeed to gain additional users. This tripled the user base (the good), but we lost a good number of users who uninstalled (the bad). The net was a significant gain in users so we tried a second time and ended up with a net loss (the ugly).  The lesson here is DO NOT SPAM your users in Facebook. The short term will look good, but long term is ugly.
Did you experience any failures along the way?
We failed to prepare our servers for a marketing success. We made a partnership with a group that had over 15 million users. This group agreed to send a marketing message about our product. When the message was sent we received a significant flood of simultaneous hits to our web server. We made a mistake of not properly preparing the site to handle the traffic, so it shut down and denied thousands from getting to the site. The partner pulled the message. We were lucky that the partner agreed to resend the message again.
From a serial entrepreneur, what straight up business advice would give to a startup?
Measure and Iterate: Figure out key performance metrics for the product and business, and then sort in order of business value. Determining this is not easy and should involve advisors, friends and co-founders. Examples are daily new users, bugs reported, new paying customers, cancelled customers, etc. Set some goals for the metric and keep the entire team (product development, marketing, sales and business development) in sync with the goal. Reevaluate the metric and goal weekly and monthly.
Build the Right Product: Engineers tend to get wrapped up in the technical aspects of a project and build the product right, but neglect to build the right product. Make sure someone has the role of product manager to ensure continuous customer interaction.
You've just had a dose of real world business insight from a true entrepreneur, author, technologist, mentor and all around startup evangelist Bob Summers, Chief Geek at Friendeo. Build the right product, run lean until funded, determine key performance metrics, reevaluate metrics frequently and attract the right customers are some of the tips Bob suggested in creating a successful startup. Take this information and use it to make your startup dreams a reality!

The Rackspace Startup Program thanks our friend, Bob Summers for taking the time out of his busy schedule to enlighten us on some business principles that are essential to building a successful startup.
For more insight on hosting your startup on the Rackspace Cloud platform backed by Fanatical Support™, contact the Space Cowboys today.