Straight Up Startup is a new feature brought to you by the Rackspace Startup Program in which we interview entrepreneurs and upstarts to get their insight on starting a business. Here, startups give  you straight up insight on lessons learned, challenges and wins along the timeline of building a business.
Matthew Blackshaw is Co-founder of Peddl, the easiest way to buy and sell things with the people around you. Peddl is building a marketplace supported by proximal transactions, intelligent post matching, and friendly user experience with a specific focus towards privacy and trust – A simple breath of fresh air in the tired room of online marketplaces.
He completed his undergraduate studies at Yale University, focusing on economics, computer science and art. His next big move was Microsoft's user experience team, where he helped build the user interface of Windows 7 and Windows 8. In the summer of 2011, he and his Peddl co-founders decided it was time to give the old guard of the online marketplaces a run for their money in buying and selling goods. He's a recent Master's graduate from the MIT Media Lab.
A serial learner, creator, interaction designer and entrepreneur, Matthew Blackshaw took the time to talk to the Rackspace Startup Program about what's involved in building a marketplace supported by proximal transactions, intelligent post matching and friendly user experience with a specific focus towards privacy and trust. What follows are Matthew's thoughts on minimizing distraction while building an online marketplace startup:
What was the product development strategy at Peddl?
The core of our team was very product focused (co-founders Tony DeVincenzi has a background in visual and interaction design, Dávid Lakatos in human computer interaction and myself in interaction design and visual engineering). When it came to laying the foundation of our product, we always try and mock up wireframes on paper for all possible points of contact with the user. We then start prototyping individual parts of the system from the mock ups and iterate quickly as we go. We don't launch anything until it "feels right." This is often a tough hurdle to jump over and one that must be carefully balanced with making sure something gets out the door fast.
How did you deal with the legal issues of a startup?
We chose to go with an established law firm for our legal needs and couldn't be happier with our decision. They offered (as many do) deferred payment until the first (or second) round of financing. While it is possible to work out many of the details of incorporation or funding documents yourself, it greatly helped us make the process quick so we could concentrate on building product.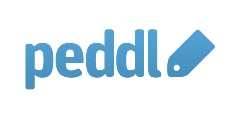 What should a startup have 'No Fear' about?
Don't be afraid to make big changes if data shows something isn't working. We've cut or changed entire features because the data didn't align with the usage we expected.
What was Peddl's biggest lesson learned?
Minimize distractions. While the team is small, we find it's often best to outsource things (legal, HR, to some extent IT operations) where we're not domain experts. This allows us to concentrate on product and proving that we're on to something of value.
What was the 'Good, the Bad & the Ugly' of taking Peddl to market?
Good: Shipping a product and getting daily, unsolicited emails from happy customers.
Bad: Keeping servers running 24/7 with a small team (Rackspace helps out a ton here).
Ugly: Localizing to the Euro overnight after we received some press in Italy.
What straight up business advice would give to a startup?
If you're starting now, focus relentlessly on solving a customer problem and continually make sure every action you take improves the solution to that problem. It's very easy to get caught up building technology and lose sight of what really matters to the customer. Many startups also forget that outreach and customer acquisition is (at least) half the battle and release products expecting users to flock to them. So, my advice would be to make sure you're really solving a customer problem and that you're clearly and effectively telling potential users that you have a solution for that problem.

The Rackspace Startup Program thanks our favorite Bulldog, Matthew Blackshaw for taking the time out of his busy schedule to enlighten us on the due diligence essential to building a successful online marketplace startup. For more insight on hosting your startup on the Rackspace Cloud platform backed by Fanatical Support™, contact the Space Cowboys today.
To get more insight from startups, check out previous posts in our Straight Up Startup series.