Ross Walker is the CEO of CircleFive, a mobile optimized survey and referral system. Surveys are delivered immediately to any web enabled device, giving you instant feedback and new referrals to help grow your business, a simple new way for businesses and consumers to engage in a meaningful way. His entrepreneurial spirit took hold in 2000, and over the years his skills sets in online marketing and technology have grown to new levels throughout his startup endeavors.
His first stab at entrepreneurship was building a company that focused on designing e-commerce websites for global customers, which he launched in 2000. Being an entrepreneur for many years, not all of his startups have been successful, but his persistence has been consistent. He has served as the CEO, CTO and co-founder in all of his endeavors. And, in January of 2013,  he published Your Reference Referral Machine, a complementing piece for CircleFive on how to generate leads and grow your audience using the company's product and written for small and medium sized business to boost their inbound marketing efforts.
A serial entrepreneur, online marketer and startup specialist with the ability to adapt quickly, Ross took the time to talk to the Rackspace Startup Program about what it takes to launch a startup through brand messaging, online marketing and technology. He knows what it takes to build a business from the ground up – he's done it several times in the past and has improved those methods over the years. What follows are Ross' thoughts on managing his team, customer expectations, brand messaging and the clock in order to build a successful startup:
What is the branding strategy at CircleFive?
This was one of our biggest challenges. Our product has two familiar pieces, surveys and social sharing, built into one. Getting our brand and messaging succinct was a pain. I would dare say it might have been the hardest part thus far. We even hired a branding specialist early on! Not something I have ever worried about with other projects.
Some people only saw customer surveys while others focused on the Facebook shares. Both were correct, but the real value comes in the magic of how we do them both. Getting that across quickly and simple is not easy. We are always trying to refine our elevator pitch to make it shorter.
Our message of "referral marketing" seems to resonate with the majority of our target market and video has been big. We will be doing more and more video as we move along.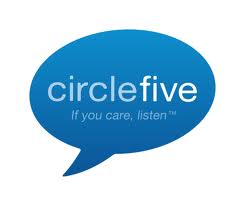 What was the plan for customer acquisition?
We spent much time talking with people face-to-face in our city during the validation phase. They gave us the feedback that shaped our product. Once it came time where we could actually make sales, we went to them first.
We thought we might be able to continue that trend of direct sales for a long time. As it turned out, the pricing required to sustain direct sales was too much. We decided we had to make the transition to online sales instead.
The switch required us to build all the necessary areas of our site to make it self-service. This took more time than we hoped (it always does).  Now we are online sales with the occasional in-person meeting to help onboard a customer if they need a little help.
What were CircleFive's biggest lessons learned?
The right people are important, the right team built by those people is crucial. And, nothing cures problems like revenue.
What business challenges did you run into?
As I mentioned above, branding and messaging have been the hardest parts. Along the way it was decided that one of the founders was going in another direction, which was a bump we did not anticipate or enjoy.
What business wins has CircleFive achieved?
We earned the opportunity to participate in BoomStartup, Utah's startup accelerator. We started that three-month process with zero lines of code and got to MVP and first revenue by the last day. We raised some seed funding quickly and continue to grow.
What were the 'What to Do' and 'What not to Do' while building your startup?
Be sure to set realistic expectations in product development and then keep firm goals and deadlines. Things start to creep a little and then before you know it you are 30-plus days past goal.
What were the good and the bad of establishing CircleFive?
The good is the mentors and advisory board we put together. Great group of minds around the table!
The bad is the clock – there is never enough time to do all the things you want to.  Resist the urge to approve your pet features and leave it to customers.
What straight up business advice would give to a startup?
Advice from customers is so important… but only the ones who do not flinch when you say "If I come back tomorrow morning with what we discussed today will you give me a credit card number?"  We learned that everyone has an idea of what you should create, but only listen to those who will put their money where their mouth is… that is your market.
Get great group of mentors and advisors, and lastly, hustle.
The Rackspace Startup Program thanks our favorite high-tech mountain man, Ross Walker, for taking the time out of his busy schedule to enlighten us on what it took to build a successful startup and for sharing his vast entrepreneurial experience. For more insight on hosting your startup on the Rackspace open cloud platform backed by Fanatical Support™, contact the Space Cowboys today.