Here at Rackspace, we pride ourselves on our unique culture. We strive to create an environment where Rackers volunteer their best and exceed customer expectations through Fanatical Support, and we do so in a way that few companies do.
And we hold in high esteem other companies that maintain a unique culture and focus on service. So when I had the opportunity to pay a visit to Zappos, I jumped at the chance.
Unless you have lived under a rock for the last 10 years, you know that Zappos is essentially the de facto method of buying shoes online. And like Rackspace, Zappos has become a fixture on lists of best places to work, recently clocking in at No. 11 on the 2012 edition of Fortune's 100 Best Companies to Work For.
Instead of keeping its secrets to success on lockdown, Zappos has a team dedicated to giving tours of its suburban Las Vegas headquarters, giving visitors insight into what makes it such an amazing place to work.
The tour, properly titled the "Zappos Insights Tours," can be booked by visiting www.zapposinsights.com. If you plan ahead, the company also has vans that can pick you up and take you back from your hotel.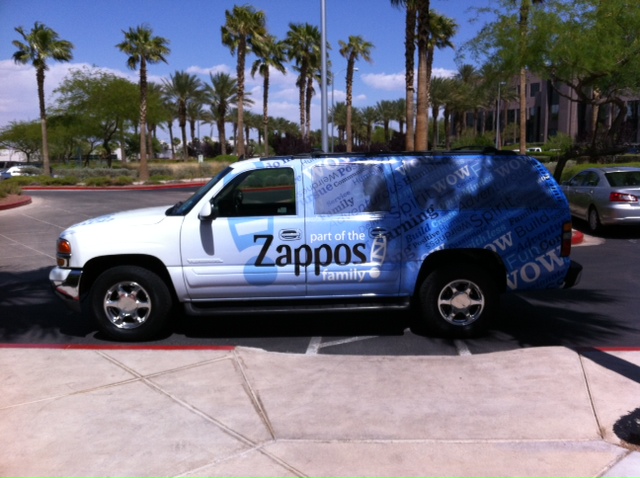 My shuttle driver picked me up from my hotel around 12:30 p.m. for a 1 p.m. tour. He had another passenger in the van who he had picked up from the Cosmopolitan who was in town for a conference. The drive was short, maybe 10 to15 minutes, and filled with chatter about what we each did and why we were taking the tour.
My reason was simple: I come from a unique, culture-focused company and wanted a glimpse into how similar companies operate. So, part of my visit to Zappos was to see if I could observe some of the magic that goes on there and to see the similarities and differences between the cultures at Rackspace and Zappos.
When we arrived at Zappos HQ we were introduced to Rocco, our culture magician, who doubles as a tour guide. Rocco informed me that he's had several people from Rackspace take the Zappos Insights Tour, though none recently. Rocco first showed us a video where we heard the Zappos story; then he took us around each department, weaving different points about what makes Zappos a unique workplace.
Some of the most interesting points were:
• Zappos has a life coach on staff who is not tied to human resources. Zapponians (did I spell that right?) are encouraged to discuss with her their goals and how to achieve them, whether they are work related or not. Rocco's goal, for example, was to not feel like he had to eat the whole cake. When the goal is accomplished, they get to write an inspirational message on a stairwell wall.
• The company compiles a Culture Book every year in which every employee contributes some nugget of insight. I received a copy the book and it's been hard to put down. I'm fascinated by how Zappos manages to get each employee to submit something without having to be forced or coerced.

• There's a whole world of people out there whose sole responsibility at Zappos, or any shoe vendor, is to procure big and small shoes. And by big, I don't mean my size 13s; I mean like this 22EEE (I think that was the size). I wish I had something to scale it against.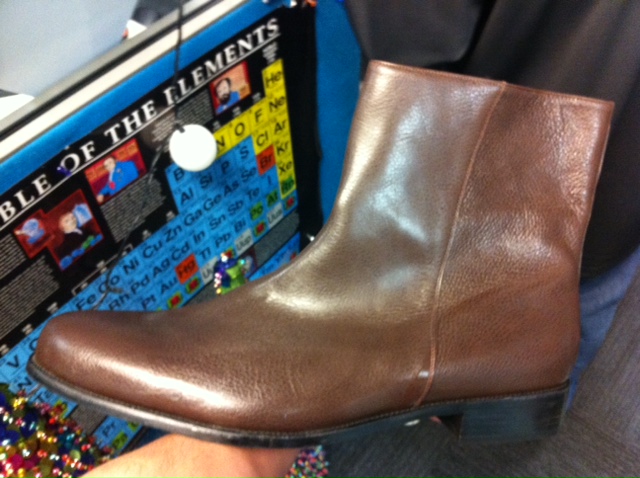 If your corporate culture has got you down, you should definitely consider taking the Zappos Insights Tour to see if there's anything you can do to make it better. Even if you have an awesome culture like Rackspace, taking the tour will reinforce that in the end culture eats strategy for lunch.