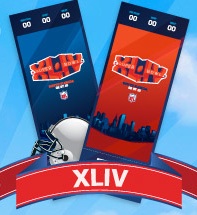 Everyday we see new and innovative ways customers are utilizing our cloud-computing platform to run their business. Though I might be a bit biased, I think some of the coolest applications on the web today are on The Rackspace Cloud. You've seen our success stories but we've only scratched the surface. We are eager to learn how you're using The Rackspace Cloud. If you are doing something really cool on The Rackspace Cloud, we want to hear from you!
We are holding a contest for the Coolest Business on The Rackspace Cloud.
To enter, just send us a video bragging about your awesome web application and how The Rackspace Cloud helps you make it happen. All entries will be posted here, on our blog, Monday, January 18th to allow our community to vote. Be sure to stand out by making sure your video is creative, cool or zany! Oh wait, I almost forgot. The prize?
2 Tickets to the 2010 SUPER BOWL in Miami, Florida!
Hurry! Entries must be received by Friday, January 15, 2010 at 11:59pm CST.
Enter Here – http://www.rackspace.com/cloud/superbowl/