Historically, IT managers and leaders have relied on tools like TCO, or "Total Cost of Ownership," to analyze and stack rank various projects and IT priorities. This approach works well when the types of application services being delivered aren't changing much; it's simply a cost comparison. Rackspace, like many service providers, has a TCO tool and associated Advisory Services (see the TCO white paper as well) that does a great job of providing a thorough analysis for mostly static environments where outsourcing, hosting and/or managed colocation are excellent first steps for organizations beginning their IT cloud transformation journeys and/or for specific legacy workloads not suitable for re-architecting due to cost or risk reasons.
Unfortunately, this approach does not account for leveraging cloud technologies with utility fee models or service provider expertise. Transformative technologies including mobile, Big Data and the Internet of Things have tremendous potential to fundamentally change the way businesses operate. There are a number of tools like VMware's ITBM Suite and Cloud Cruiser that are beginning to take on this challenge (at least for cloud), but they primarily focus on costs and have a long way to go before being able to accurately assess the intangible benefits of cloud and hybrid technologies.
Current TCO methods don't address either analysis complexity or overall benefits to the enterprise.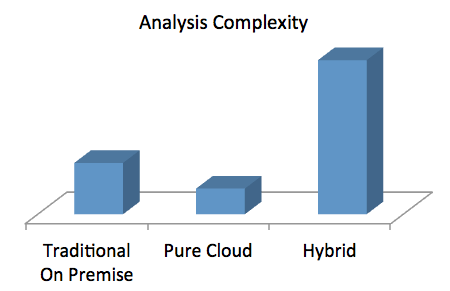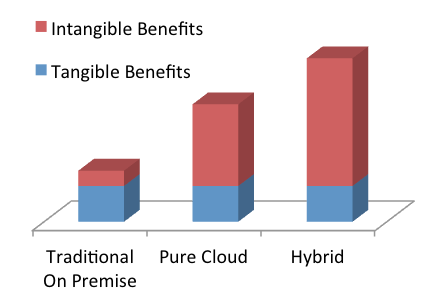 Most TCO analysis tools and services focus on intangibles like the cost of downtime and have a generic "agility" benefit, which is essentially just a guess. This is where the system breaks down. Success will ultimately require a level of collaboration between business and technology that doesn't yet exist in most organizations.
So what are these "Intangible" benefits missed by traditional TCO analysis?
"Intangible" benefits (like agility, business model innovation and the like) are simply benefits where standard analytical methods for assessing value haven't been developed yet. Managed private clouds, public clouds, etc. are primarily "enabling" technologies – they enable a new approach to business. Most of the current analysis techniques focus on (and usually over-emphasize) tangible benefits like implementation, support costs, CAPEX, etc.
An example – A consumer goods retail company wants to enhance its ecommerce strategy as a way to accelerate its penetration into new markets and ability to launch product extensions. To do this, a hosted private cloud with direct low latency connection to a public cloud provides the ideal platform that optimizes agility, risk and cost. (Here is an example architecture.) The scalability of the new hybrid architecture enables the business to quickly acquire the market reach needed by reducing both the integration time and costs required as it integrates acquisition targets. Instead of integrating multiple systems like CRM, ERP, etc. it is able to quickly scale one system instead. Similarly, product development is accelerated because IT provisioning is no longer a bottleneck. These benefits are massive, but because they're intangible, they're very difficult to estimate, measure or track.
TCO analysis is an important part of IT decision making, but it's not enough. It takes a truly multi-disciplinary approach to be able to make effective decisions on a hybrid cloud strategy.
Key recommendations:
Bring top technologists and business leaders together in your organization during the strategic planning process (in a highly structured manner) to discuss new ways to use technology to enable business change.
Develop new financial models that more accurately include the "intangible" benefits of hybrid cloud.
Modify existing budget allocation processes to incorporate assessments of the intangible benefits of hybrid cloud architectures.