As one of the pillars of hybrid cloud, Rackspace Private Cloud started with a mission to build and operate private clouds powered by OpenStack in our data center, in a colocation facility or in a customer's data center. In this weekly blog series, we'll profile some of the key members of the Rackspace Private Cloud team to give you a glimpse into the inner workings of a team that's helping to define and deliver the future of private and hybrid clouds.
Karin Levenstein joined the Rackspace Private Cloud team as a Technical Writer in April 2012. If you've read any of the documentation for installing or using Rackspace Private Cloud software, you've undoubtedly experienced her awesomeness. Outside of Rackspace, Karin is also a freelance writer who writes book reviews for Publishers Weekly and reviews and articles for Tor.com. She enjoys playing the ukulele and has been known to show to up to work with some archery-induced bruises.
How long have you been a Racker?
Since April 2012.
Tell me about your journey to cloud computing. 
I was a complete newbie to cloud computing when I joined Rackspace, and so my journey was more of a process of being tossed in the deep end of the pool and learning to swim very, very quickly. So quickly that my first OpenStack conference was a mere two weeks after I joined!
How did you end up at Rackspace?
I've lived in Texas since 1992 and in Austin since 1998; previously I worked at BMC Software and TippingPoint, later part of HP. I found out that the private cloud team was looking for a tech writer from OpenStack writer Anne Gentle, a former colleague of mine from BMC. Rackspace seemed like a neat company and the work sounded interesting, so I sent in my resume, and the rest is history.
What do you love most about Rackspace?
It's great to work at a company where everyone is so engaged and passionate about what they're doing.
What makes private cloud exciting to you?
There's never a dull moment in private cloud! It's a very dynamic group, and it's fascinating to watch the product develop and grow over time. I've also learned a lot about the technology that we use, and it's all really interesting for me.
Where do you see Rackspace, OpenStack and private cloud at in five years?
Bigger and better than ever! (If that's not too cliché a thing to say.)
Karin was recently recognized by our leadership team for her hard work and dedication, and is the next Racker who gets to cruise around in the Rackermobile for a week! If you see Karin on the freeway in Austin, give her a honk and a wave!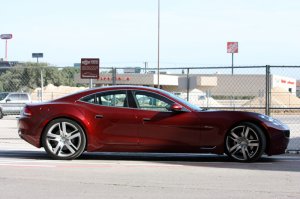 And be sure to check out other Fanatical Faces of the Rackspace Private Cloud. Last week, we featured Ryan Yard, Senior Manager for the Enterprise Architecture Team.