This is a guest post written and contributed by Doug Jury, vice president of sales for Zadara Storage, a Rackspace Cloud Tools partner and maker of Virtual Private Storage Arrays (VPSA), cloud-based iSCSI storage.
The three-legged stool is a staple in many homes today. It's easy to use, requires no adjustments and anyone can set it up. The three legs allow it to work on most flat surfaces and almost always stay level.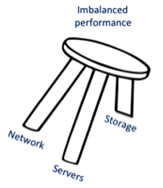 Using the analogy of a simple piece of household furniture makes it easy to explain the imbalance in most cloud providers today. Today's clouds are tuned for maximum network and server performance. With load balancers, numerous web servers and application servers offering core after core and GBs of memory, one would think that the cloud is in balance. But nothing is further from the truth.
While networking and servers have been well designed into the cloud, storage is a bit of an afterthought. You can either choose your block storage using ephemeral devices in the servers or decide on object and file storage through other services. High performance persistent block storage entirely in the cloud is not available. To continue with the analogy we have a very short leg in the stool. Customers understand this all too well. I've been following a cloud blog that simply asks "In one word, what is the biggest challenge facing Cloud Computing in 2012?
The top 10 are security, learning, change, performance, connectivity, confidence, control, SLAs, ROI/TCO and regulations.
Let's look at these from the perception of storage.  In the top 10 we have several concepts that have been fixed with a no-compromise yet affordable storage solution in the cloud. At Zadara Storage we have developed a product called VPSA (Virtual Private Storage Array). It encompasses many of the challenges most cloud users have today. I can easily explain VPSA in four words; control, performance, security and flexibility.
Let's build a Virtual Private Storage Array here on the spot and explain the benefits.
Control: With a few clicks you have selected a four-core, 8GB cache RAID controller; five SAS drives in RAID5; and created 20 20GB Volumes (LUNS). That took five minutes.
Performance: This RAID controller is yours and yours only. There is no sharing of cores, cache, spindles or network resources. You have no noisy neighbors.
Security: Using iSCSI CHAP secret; VPNs; encryption in flight and at rest; and, again, no sharing of spindles, you have the most secure storage environment out there today.
Flexibility: VPSA was built from the ground up specifically for the cloud. It's like having your on-premise array in the cloud. The difference is that you may keep it for one hour, one day, one week or so on. If you need a faster controller, increase it at will. You can then reduce it when the need passes.
It offers cloud economics with all the attributes you wouldn't compromise with on-premise storage.
VPSA is available via partnerships with Rackspace and Zadara Storage. To help you test your very own VPSA we have a free trial program. Simply go to www.zadarastorage.com and click on Free Trial or Sign-Up
At Zadara Storage, we have fixed the wobbly three-legged stool and have made your storage run a whole lot faster, securely and with more control.  The cloud is once again in balance.