Since the release of our API's, developers have been vigorously working on developing cool new applications, one of those being t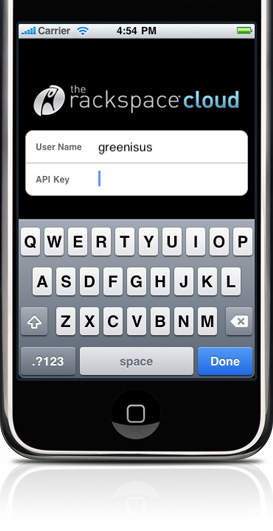 he Cloud Servers iPhone App developed by Michael Mayo.
Since Michael first mentioned his work on the iPhone app on his blog, overhrd.com on July 4th, we have been receiving a high number of people asking, "When and where will it be released?" It has finally been approved and is now available in the iPhone app store from your iPhone or  you can also get it in the iTunes store.
This Cloud Servers application, available on iPhone and iPod Touch, allows you to easily and quickly administer your Cloud Servers on the go, wherever you are. While it's not a complete replacement for our browser-based control panel or APIs, it does allow for some powerful remote administration capabilities.
Here is a list of features:
•    List all the Cloud Servers on your account
•    View details about each Cloud Server
•    Rename Cloud Servers
•    Resize Cloud Servers
•    Perform Hard Reboots
•    Perform Soft Reboots
•    Find Cloud Servers by Shared IP Group
•    Create new Cloud Servers (including from any existing backups)
We spoke with Michael about his experience working with The Rackspace Cloud team and developing with our API:
"It's been a great experience to collaborate with the Rackspace Cloud team on the development of the Cloud Servers API. Working together with the Rackspace team enabled me to develop my application much more quickly. I'm very pleased with the open feedback process as it makes my work a lot easier."