Waves of palpable excitement moved through the throng of developers, musicians and media as Slash took the stage at the end of the epic 12-hour Slashathon hackathon and aptly proclaimed, "That was a hell of a lot of fun!"
Held during SXSW, the hackathon was conceived and created by The Collective, the music management company representing Slash, with mentoring provided by Furthr.la, builders of the Slashathon website. It was a hackathon like none other. In just half a day, developers joined the Geeklist community to assemble teams, dream up an idea focusing on musical artists and develop a prototype using a myriad of sponsored technologies available. Then they had to present to the judges: Robert Scoble of Rackspace; Bram Cohen, founder of BitTorrent; and the man of the hour, rock star and guitar hall-of-famer Slash.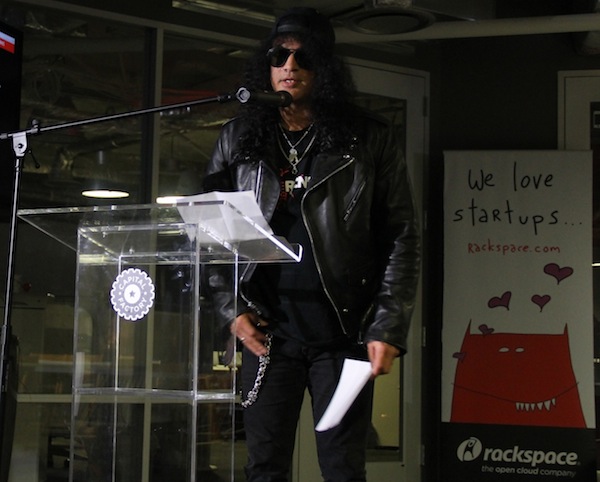 The Slash factor attracted a crowd of developers that was no less colorful than the former Guns N' Roses axman. Participants ran the gamut from a bass guitar player turned developer from Buenos Aires to University of Texas Austin hard rock enthusiasts majoring in computer science. The buzz of creative energy throughout the day was only matched by Slash's tunes playing in the background.
The coders used many technologies including smart headphones by Muzik, Dolby Digital APIs, Gimbal proximity beacons, Spotify APIs and Rackspace Performance Cloud Servers. The winning app, chosen by Slash, was SLASH TV, a mobile app that allows folks to create rock music videos in 30 seconds using digital assets. The winning developers, John Stanhope, Simon Solotko and Christian Primozich, won entry into the Rackspace Startup Program, giving them a huge boost to host their app. They also took home a Gibson guitar autographed by Slash, $1,000, an iPad Mini and Muzik Smart Headphones.
The second place team, Pretune, created a system that allowed artists to reveal bits of their music as more fans signed on to their pages; and the third place winner, Jeff's App, used a Gimbal beacon to switch playlists based upon zones in one's house – the playlists could be created by artists. Honorable mention goes to Groupieology, a way for fans/groupies to follow artists by mapping their concerts and events. This was a joint effort by developers from the Harvard Business Review and Rackspace developer advocates.
Reuben Katz, CEO and Founder of Geekli.st, was beaming after the event. "This was such a great opportunity to get real feedback from rock stars so that companies can build on real use cases," he said. "I feel fantastic!"
Slashathon winner Simon Solotko said he was "really impressed with just how good all the people were," and that he was in awe of how his team was "perfectly complementary in skill set and turned out a beautiful story of great karma and partnership."
And on presenting his app directly to Slash, Rackspace Developer Advocate Everett Toews exclaimed, "I love having new experiences in life, and man, this was A BLAST!"
The Slashathon presented the opportunity for a great melding of two industries — tech and music — to unearth fresh sources of innovation and build novel, multi-faceted communities. Everyone in the room was inspired to break down the walls of their existing worlds and step into new domains to continue to learn, grow and contribute. We hope to see even more great things coming out of this experience.