Facebook COO and author of Lean In, Sheryl Sandberg kicked off the Grace Hopper Celebration for Women in Computing in Minneapolis by asking the 4,600 women in attendance one question: "What would you do if you weren't afraid?"
That question is at the heart of Lean In.
This is not like any conference I've ever attended. The expo hall is filled with healthy snacks. There is onsite childcare and there are rooms for nursing mothers. Here, men are the minority. Sandberg, addressing the audience, acknowledged the men in the room, half-jokingly stating, "Any men here today get a pass for the inevitable revolution."
Getting more women into tech has been a topic on the minds of many, and one that is especially important to me. I've worked the issue into my talks at previous OpenStack Summits and Cloud Expo. Statistic after statistic indicates that we're facing a tech talent shortage. One way to help fill that gap is to fill those roles with women and minorities. During the Grace Hopper keynote, speakers shared research showing that while women make up 51 percent of the population, they account for just 23 percent of the technical workforce, even though 80 percent of the time they're making the purchase decisions. Diverse teams, they said, also innovate better.
After the keynote, I headed to the Senior Women in Computing Networking Lunch. As I looked around the table staring at name tags and titles, I felt honored to be included, as I'm not in a management role, nor do I have a fancy three-letter acronym in my title. The panel was hosted by Barbara Gee, Vice President of Programs at the Anita Borg Institute. She was joined by Julie Larson-Green, Executive Vice President at Microsoft, and Susan Wojcicki, Senior Vice President for Ads and Commerce at Google.
Here are the top 10 words of wisdom from Julie and Susan, the top technical women at Google and Microsoft, respectively:
You have to be persistent and confident. Sometimes that means not taking "no" for an answer.
You have to be willing to try anything. Men apply for jobs when they meet 60 percent of the criteria. Women wait until they feel they meet 100 percent of the criteria.
You must be willing to complete work that isn't always 100 percent.
Find a mentor and/or a sponsor. They can be in your organization or in your industry.
Be willing to listen. This means listening to your gut, listening to feedback even when it's difficult, and listening to others. Everyone wants to be heard and understood.
Have passion for what you do. Following passion is a good way to advance your career.
Find work-life balance that works for you. This might mean setting expectations with your team about when you will be available, with exceptions, of course.
Be true to yourself. Everyone has a platform now. Get your voice out there. If you're in a position to help by being a mentor or a sponsor, do it!
Do what scares you. Take the job that scares you the most. These are the roles that will challenge you and keep you on a path to growing personally and professionally.
Think on the edge. One of the panelists talked about reverse engineering a team, where one man would work on a team with nine women.
On another note, if you're lucky enough to have technical women working for your company, keep them happy! The expo hall is full of companies here specifically to recruit women; not because they want to fill some kind of gender quota, but because they know that bringing more women in will help them be more innovative and create products and services that women will want to use. Lucky for me, Rackspace understands that! I love Rackspace, and am happily employed alongside amazing women. Did I mention we're hiring?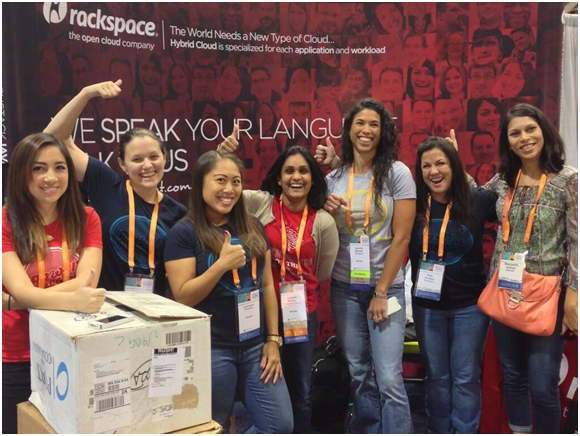 If you're at Grace Hopper, you can find me at the Rackspace booth in the expo hall or tweet me at @nikiacosta.