When it comes to Managed Hosting, I ask a lot of my customers and prospects about their buying process and how they evaluate a hosting provider before buying.
Many people — especially in small businesses — don't know what they don't know, so they just rely on recommendations from trustworthy sources (like friends, colleagues, agencies, or consultants), then move their sites.
Unfortunately, once they have made the move, they are often stuck with that solution for better or worse, since moving the site from one provider to another can be so painful.
Asking for recommendations from trustworthy sources is a good thing. But since your friends' and colleagues' requirements for choosing a managed hosting provider might be different from yours, you should also do your own due diligence.
In this series, I'm going to share some tips for choosing your managed hosting provider (which you can consider, obviously, along with talking to your friends and colleagues). Hopefully, this will help you in making a more educated decision.
In this post, let's look at the scope of services provided.
Tip: Find out what is managed by the hosting provider
Managed hosting is loosely defined as having a provider manage some portion of your website hosting. So, for each provider you have to find out specifically what the hosting provider will manage vs. what you will manage. And beware of blanket statements such as "we manage everything"— they can be dangerous!
Here are some questions to ask a provider:
Standard Tasks
Who manages the LAMP or .NET stack? (This tells you who will manage your Windows or Linux environment.)
Who will manage the security patches and upgrades?
Who manages the platform: hardware, network, OS, storage, database, DNS, firewall?
Are clusters, redundancy and load balancers included in the package and who manages it?
Other Tasks
Who manages backups of your site?
Who will manage your applications: WordPress, Joomla, Drupal, etc.?
Who will manage website security?
Who will migrate the sites from my current hosting provider?
Always ask yourself what you want to manage. There are very few companies that will do all the standard and other tasks listed above, since typically the other tasks are site-specific and require customization for every site. Hence, they are time-consuming and risky for hosting providers and often not included in the package.
For example, Rackspace Cloud Sites is a managed cloud product that manages all the standard tasks listed above, but it's the customer's responsibility to manage the customer code, data and application. For a majority of people, this is all they need.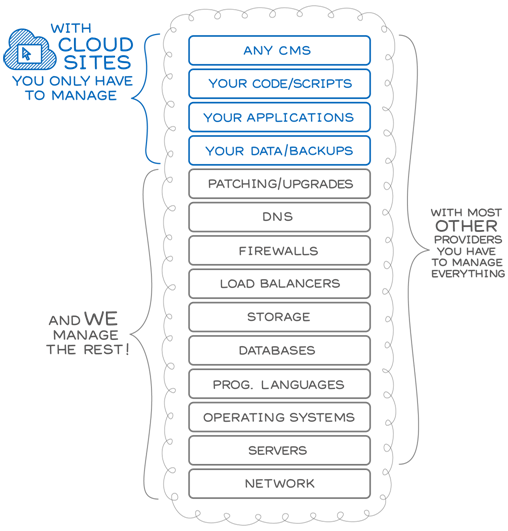 Once you've determined what your provider manages, you'll want to evaluate quality of support provided, their availability and whether they can actually resolve problems in a timely manner. That's the topic of Part Two: Getting Quality Support. Tune in next week.
Learn more about how Rackspace can help you with hosting your WordPress site.