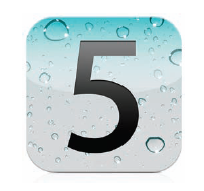 Mike Mayo is the lead iOS developer for Rackspace.
The release of iOS 5 — the latest update to Apple's mobile operating system, which powers both the iPhone and the iPad — is chock full of shortcuts that empower users with easier to access some of the system's core functions. Below is list of the top 10 tips and tricks incorporated into the latest version of iOS:
1.    Filter Notifications.
Lots of good stuff in Settings -> Notifications. For every app you have, you can choose whether or not you want banner notifications or alerts.  Most importantly, you can turn off badges.  If you get a lot of email, it's a great stress reliever to turn off the unread email count badge on the Mail app.  As an added bonus, you can also do this in the Mail app for Mac.
2.    Set Phonetic Name Fields.
In Contacts, you can set phonetic name fields to help ensure Siri doesn't mispronounce the names of your friends, family members or colleagues.  You can also set up your own relationships (spouse, sibling, etc) on your own contact entry.  Then when you say to Siri "text my wife," it'll go to the right person.
3.    Tap to the Top.
If you're looking at a long list of things such as email, and you've scrolled down pretty far, you can get to the top instantly by tapping the status bar (this is the part of the screen at the top with the carrier info, time, and battery life information).
4.    Custom Tones for Alerts.
Likely to be more relevant for the iPhone than the iPad, iOS 5 now allows users to configure custom sounds for notifications from various applications. For instance, one sound file can be used to alert the user to the arrival of a new text message; another sound file for tweets; yet another for new incoming email; etc.
5.    Using the Camera from Locked Screen.
With iOS 5, the camera can be used to take pictures even when the phone is locked. Simply double tap the home button on the iPhone, and a camera icon will appear next to the slide bar that unlocks the device. Press the camera icon and the camera app is launched, enabling photos to be taken quickly and easily. For security reasons, only photos taken in the current session will be viewable; to view all the photos on the camera app, the device will need to be unlocked.
6.    Split Keyboard for the iPad.
For iOS 5 on the iPad, a small button appears on the bottom right of the keyboard that allows the keyboard to be moved up and down the iPad's screen — and also allows for the keyboard to be split into two pieces, making typing with thumbs easy. This simple shortcut can make the iPad much better suited for content production.
7.    Auto-Text Shortcuts.
Another trick in iOS 5 great for those who plan to use their iDevices largely for content production — i.e. email, text — is that of auto-text shortcuts. Users can now easily program keyboard shortcuts into iOS, effectively creating their own form of shorthand ideal for communicating via handheld devices like the iPhone.
8.    Location-based Reminders.
Although region monitoring has been a part of previous version of iOS, with iOS 5 comes a big leap forward in the form of reminders. As the name suggests, reminders are a notification service that remind users of events or tasks to be completed at a given time — or a given place. And with iCloud, another new feature in iOS 5 that enables all iDevices to be synced and files to be shared, setting a reminder on one device can cause the alert to appear on any user's iDevice if the conditions are being met.
9.    Access Siri without Unlocking Phone.
On the iPhone 4S, you don't have to unlock your phone to access Siri.  If you have built-in Bluetooth in your car, for example, you can reach into your pocket and hold down the home button for a couple of seconds and ask Siri to text message a contact, all while keeping your eyes on the road.
10.    Enable Emoticons.
Ever wonder how your friends add smiley faces to all of their text messages? It's easy to enable in iOS 5. Go to Settings > General > Keyboard > International Keyboard. Tap to add a new keyboard then proceed to tap on the Emoji from the International Keyboad list. The emoticons will now be available on the keyboard behind the global icons.
As iOS has evolved over the past four years, the computing power of these mobile devices is growing at an alarming rate. With judicious use of shortcuts and all that iOS has to offer, users can get the most of these computers and maximize their productivity without compromising convenience.