One of our core values at Rackspace is "Treat Rackers Like Friends and Family." This value is a huge part of who we are as individuals, and it's something deeply embedded within the fabric of our company. That's why it's pretty common to hear stories about Rackers taking care of each other. What we've learned over the last few years is that when we band together, we can create something of value that's greater than ourselves.
Just recently, hundreds of Rackers joined forces to help one of our own after a car accident in early August left Rackspace Online Sales Team Member Krystal Cantu badly injured. Doctors were forced to amputate part of her right arm. At the time of the accident Krystal was one week shy of competing in her first CrossFit competition through the Racker Fitness on-site health program.
In the days after Krystal's surgery, a team of 11 Rackers across different departments rallied together to organize a barbecue fundraiser to help offset her medical expenses. Penned "Krystal Strong," the campaign netted an astounding $30,000 in donations over a three-week period that culminated in a company-wide barbecue fundraiser on August 28.
On that day, around 50 Rackers arrived bright and early at our headquarters in San Antonio to prep the event space. Krystal and her family were also on-site throughout the afternoon, when volunteers helped grill burgers, sell Krystal Strong t-shirts and lead a series of CrossFit workout sessions.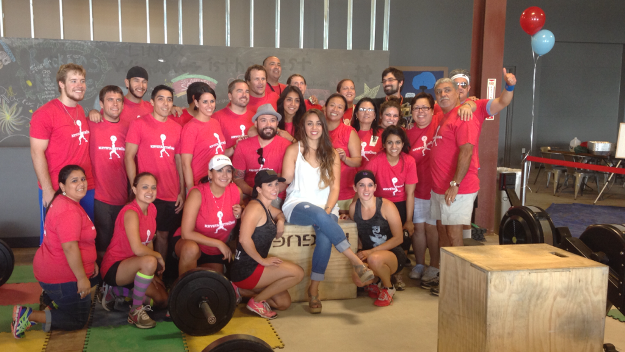 It was amazing to see that some of those volunteers used their company-allotted vacation time to take the entire day off from work in order to focus exclusively on the fundraising effort.
Donations for Krystal Strong are still accepted online.
Another Rackspace department put together a bake sale to raise funds. And Rackspace President Lew Moorman's family helped organize an art project, where Rackers and their families painted their handprints on a canvas to show solidarity.
There's a lot of amazing stuff going on at Rackspace. It's difficult to define what makes a Racker, but the one thing that connects us is our commitment to treating each other like friends and family.
The Krystal Strong fundraiser developed organically thanks to a group of Rackers who decided to take care of each other during a time of need. In the words of Krystal herself, "Rackers are amongst the best family and friends you can ever have."