Every year, Rackspace gets heavily involved in SXSW and this year will be no different. It's an event that brings some of the brightest minds in the tech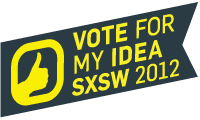 industry into one vibrant city, right up the road from our headquarters.
With SXSW 2012 being right around the corner, now is the time to pick the SXSW panels that you are most interested in hearing about. The SXSW PanelPicker allows the community to have a significant voice in programming Interactive, Film, and Music conference activities for SXSW.
Rackspace has submitted seven different panels for the Interactive event and we have other Rackers that are sitting in panels being organized by other companies. Here are the various Rackspace and Rackspace-related panels you can vote on:
Rackspace Cloud guru Jonathan Bryce, Facebook's Frank Frankovsky and Spacehack's Ariel Waldman will sit down for this three-way discussion on all things open source: from software development to data center building to space exploration.
Toby Owen and Duan van der Westhuizen will explore how the cloud of the future will look like and how all the development that is taking place today will shape it.
Matt Wilbanks will show companies that social media is more than just another weapon in the marketing arsenal as he explains how a team of engineers dedicated to assisting customers over Twitter is a valuable tool to have in the customer support utility belt as well.
Rackspace's Scott Sanchez and some of his industry peers will sit in this five-way discussion on how to forge business partnerships to bring your cloud to the next level.
Lawrence "SugarBear" Reyes, along with representatives from Zappos, FreshBooks and Points.com, will ponder how to build your company's culture and how to sustain it.
Come see Glen Campbell take on the issue of how the cloud is getting to be enterprise-ready.
Community Affairs Director Cara Nichols leads this solo presentation on how your company can establish a community relations program that is geographically-based, focusing on your neighborhood's needs, instead of one that only targets specific causes.
Come see Joseph Palumbo show attendees how to leverage the cloud so business owners can focus on running their business while allowing others to manage their IT needs.
Gary Dusbabek will be tackling on datastore issues and help attendees make the best choices for both relational and non-relational projects.
Voting is Easy – Here's how to do it:
First, create a PanelPicker account. If you have set up a PanelPicker account previously, click here to sign in. After you have signed up for an account, you will receive a verification e-mail. Click on the link inside this e-mail and you will be ready to go.
Voting ends 11:59 CDT on Friday, September 2.
For more information, please visit http://panelpicker.sxsw.com