More than ever before, IT is poised to become a key business player and advisor to the business.
In the recent webinar, "Empower, Innovate, Transform: Three Must-Do Steps for IT to Maintain Relevancy in a Cloud World," Deepen Shah, Senior IT Strategist and Enterprise Solutions Architect at Rackspace, and Scott Bils, Managing Partner at Leverhawk, joined me to discuss revolutionizing IT.
We all shared different perspectives on how organizations can achieve IT-as-a-service (ITaaS), drawing from our years of industry experience and what we are seeing in working with hundreds of enterprises today.
Below are the results we gathered from questions asked during the webinar.  Where would you fall in our polls?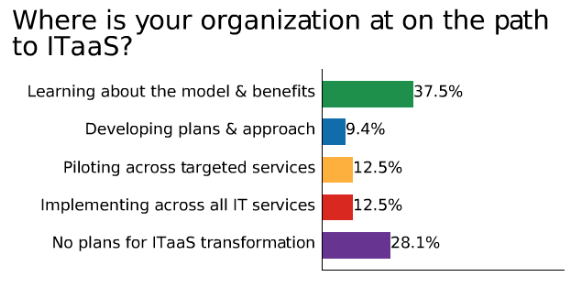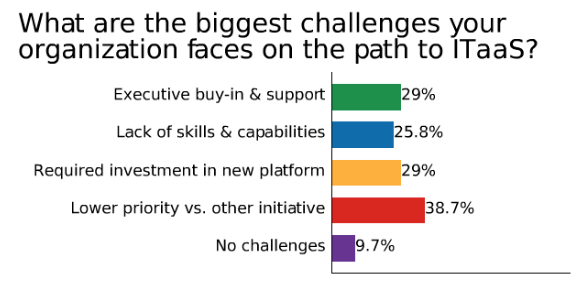 According to polling data from the webinar, most companies are still learning how ITaaS works. Only 13 percent of those polled said they are implementing ITaaS across IT services, and a large chunk (28 percent) said they have no plans for ITaaS transformation. Why? According to 39 percent of attendees, their organizations are focused on other priorities.  Other roadblocks include executive buy-in and support and required investment in a new platform (both cited by 29 percent of respondents).
It's evident that IT organizations are too busy focusing on "keeping the lights on" maintenance activities and that true innovation takes a back seat to other initiatives.  We discussed the simple steps any busy IT shop can take to start moving toward transformation to be positioned for future success.
In case you missed it, catch the full webinar here, and read Scott Bil's recap here. Is your company considering an ITaaS model? Tell us what you're doing in the comments.
Catch our next webinar, "Do I Have Big Data Problems?" on Wednesday, October 9 at 11:00 a.m. CST!