In a recent episode of Mad Men, Peggy Olson channels her old boss, Don Draper, when she pitches Heinz ketchup. There's ketchup, Peggy says, and then there's the cheap and watery imitation—catsup. "They're selling their watered down, flavorless sauce by pretending that they're you," she says, looking straight at the Heinz executive. "It makes you angry, doesn't it?"  The exec seems intrigued. A beat later, Peggy says, "But I always say, if you don't like what they're saying, change the conversation." Then she uncovers her concept: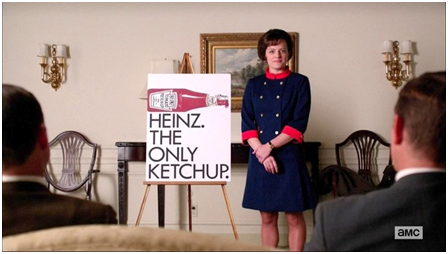 The idea of wanting to control the conversation in marketing goes way back. In real-life 1968—the year of Peggy's pitch—H. J. Heinz poured $21 million into marketing so it could have the biggest voice in the room.[1]
In the age of "always on" marketing, the conversation sounds very different than it did half a century ago. For one thing, it's louder and more boisterous than ever before. It includes millions, even billions, of voices.
So where does the cloud fit into all this?
Massive, affordable scalability stands behind the daily deluge—2 billion tweets, 133 million hours of watched YouTube videos, 10 million hours of streamed Pandora…
That's probably not the conversation Peggy had in mind in 1968. But how could her savvy, 2013 alter ego—also called Peggy—use the cloud to sell more ketchup?
Selling Ketchup as a "Multichannel Digital Experience"
2013-Peggy has a different outlook (and hairstyle) than her 1968 doppelganger.
Her guiding campaign principles:
Create a brand experience that's intimate, immediate and informed
Make the conversation seamless and unified across multiple devices, channels and platforms
Consumers don't care if they're on the cloud, or off, consuming software-as-a-service or ketchup-as-a-condiment
Power the campaign with technology that's smart, affordable, scalable and flexible.
Peggy's pitch to the rest of her team:
Always Think Super Bowl
(Microsites that scale with demand)
No marketing campaign aims for mediocre results. Marketers need landing pages and microsites that keep up with traffic, even during a Super Bowl ad. Cloud platforms scale dynamically to serve big spikes in customer traffic.
Give the Ketchup Fans the Microphone
(Full support for social media and rich media content)
Because Peggy wants customers to speak their minds, post their videos and re-tweet each other's 140-character haikus about ketchup, she needs a cloud platform that's integrated with social media and has massive storage capability. Some of that customer love can live on Facebook, Twitter and YouTube, but some of it should live on the website. "The cloud allows us to offload media delivery using blazing speeds on a global CDN." She gets some blank stares. "For you civilians, that's Content Delivery Network…"
Keep the Ketchup Next to the Virtual Register
(Secure, dependable online commerce)
Every campaign is about generating revenue from sales. Peggy doesn't want to build an ecommerce platform from scratch. She wants to find a trusted cloud provider who can give her a world-class ecommerce platform—and the apps to go with it—to manage everything from checkout to shipping. "And guess what?" she says, smiling. "We're going to ship ketchup and bright red merchandise straight from the warehouse."
We're in the Experience Business, Not the Computer Business
(Full support for web-based applications, content management tools and analytics)
Peggy's deal closer: "On the backend, we want outside agencies and freelancers and the rest of us to seamlessly share content and ideas. We want all the applications we use—from customer relationship to online surveys to digital asset management—to live on someone else's network and be securely and dynamically available on the web. We want to run lean and measure everything we do, in real time, using analytics that help us make smarter decisions. Oh, and we want to pay only for what we use and leave the maintenance, security and performance to the cloud fairies who live on someone else's payroll."
The room goes silent.
"By the way, did I mention the IT budget has been cut again? Yeah, so I guess we're buying the tacos from now on."
[1] According to Ad Age's ranking of top spenders for 1968.