If you've tried Match.com or OkCupid with the hopes of finding your dream date, it can be a little overwhelming and scary. These dating sites help individuals meet each other, but what if you can't decide what to do on your date? This week's Must Have App HowAboutWe.com takes a totally different approach to dating by starting with the most important part first, the activity itself! Now, it's easier than ever to find that perfect someone or the perfect something, all thanks to the cloud.
Go Out More
HowAboutWe.com, which is a member of the Rackspace Startup Program, helps people get offline and meet new people face to face. HowAboutWe Dating is for singles who want to meet new people in the real world. Singles post date ideas, connect with someone they like and get together. HowAboutWe for Couples allows people in relationships to browse a curated collection of local date experiences, pick the ones they like, and go.
"HowAboutWe.com helps people fall in love and stay in love by providing a simple way to go on wonderful dates," according to founder Aaron Schildkrout.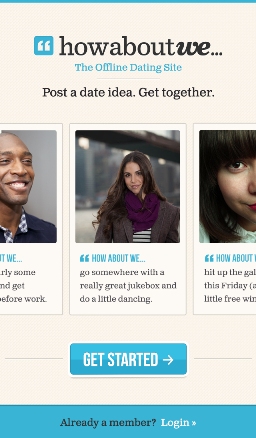 How Does HowAboutWe Work?
Members finish the phrase "How about we…" with the date they'd like to go on, find someone to go with, then go! It's very simple. By using the date as a starting point, the app provides a simple and intuitive way to meet new people by going on fun dates. It's an activity-based approach to online dating.
"We make the online part easier, so people get to the dating part faster. The HowAboutWe way is more fun, more natural and more effective," said Schildkrout.
How About It…
Schildkrout founded the startup in 2010 with cofounder Brian Schechter, and the first iteration of the iPhone app launched in June 2011. The latest update, a complete redesign of the app, was released in May and includes a faster, easier signup process.
HowAboutWe is available for iPhone, Android and iPad. Find them on iTunes and Google Play or check out HowAboutWe.com today and discover all the fun adventures waiting for you and your date.
Check back each week as we highlight a new Must Have App. If you missed last week, take a look at our previous Must Have App: BookShout!
If you're a startup running on Rackspace and would like to be part of this series, let us know and we'll set up a time to talk and learn more about your awesome app.