EDITOR'S NOTE: The Rackspace Cloud now supports Windows Server 2012. Get more information here.
While much of the mainstream and tech press has focused on the upcoming release of Windows 8, most of us know that Microsoft has also been hard at work on the latest release of its server operating system: Windows Server 2012. The updates available in Windows Server 2012 will make it easier for you, our customers, to deploy and use the features available in the Rackspace open cloud.
Use of Microsoft operating systems continues to grow and Windows Server 2012 and SQL Server 2012 are prime examples of how Microsoft is changing with the evolving needs of a growing customer base.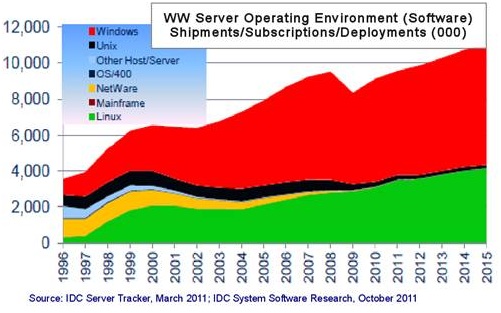 At Rackspace, we believe in making the cloud open and accessible to as many users and technology platforms as possible, and that includes a commitment to rapidly getting Windows Server 2012 into our cloud offerings, including Cloud Servers, Cloud Sites and Dedicated Servers. This will enable our cloud customers to take advantage of the significant improvements in the Windows Server 2012 platform, including:
Powerful cloud and remote features: Windows Server 2012 makes it even easier to deploy systems and applications in the cloud, with simplified management, remote access and application stacks that help blur the lines between on premise and cloud implementations.
Improvements for deploying and managing multiple systems: One of the promises of the open cloud is the ease of scaling your virtual infrastructure on demand. Past versions of Windows and other tools supported managing multiple systems, but with Windows Server 2012 powerful multi-server management is built right into the operating system. With features like the new Server Manager, it's easier than ever to monitor and manage your servers, whether you have one or 100.
New Active Directory Domain Services features: With new tools integrated into Server Manager, virtualization aware domain controllers and task wizards that can generate Windows PowerShell scripts, managing cloud or hybrid Active Directory deployments has never been easier or more scalable.
These are just a handful of the features in Windows Server 2012 that make it an excellent choice for deploying in the Rackspace open cloud. For a comprehensive breakdown of these and other new features, see the Microsoft Article "What's new in Windows Server 2012".
We are excited to get Windows Server 2012 into the hands our open cloud customers as soon as possible. We are in the final stages of our fanatical testing and validation process, so go to www.rackspace.com/windowsserver2012 and signup to be notified when the product is ready!