Last weekend, a group of Harvard Women in Computer Science students put on an amazing technical women's conference called WECode (WE = Women Engineers).
Over 250 young women from 40 universities came together at the WECode conference to learn, network, and share their passion in technology. Technical professionals and leaders from the industry, including ThoughtWorks CTO Rebecca Parsons, shared their insights and career advice with these bright eager minds. Rackspace also participated in this excitement. We hosted a hands-on Getting Started with OpenStack workshop; provided mentoring at an all-day hackathon; and participated in an interview and resume building boot camp with other technical professionals in the industry.
Rackspace's involvement started at the Grace Hopper Celebration last year. At this conference, I had the opportunity to meet JN Fang, a Harvard student who shared with me her idea of organizing a technical conference for women at her school.  Her mission and passion for developing a community for women in technology moved me. I remember talking to my colleague Trisha Medina about it, and we were overcome with a feeling of excitement and inspiration. I knew Rackspace needed to get involved.  From there, we worked with our executive sponsor of POWER (Professional Organization of Women Empowered at Rackspace), Gigi Geoffrion, who worked with us to make Rackspace a gold sponsor for WECode and the larger Harvard Women in Computer Science organization. Months later, five lady Rackers flew out to actively participate and connect with the WECode community. These Rackers included Iccha Sethi, a core contributor to OpenStack Glance and developer for Rackspace Cloud Images; Egle Sigler, a DevOps architect in the Private Cloud Solutions team; Dana Bauer, a developer in the Developer Relations Group; Trisha Medina, our university relations manager; and myself, Amy Truong, a software development manager for Rackspace Cloud Databases powered by OpenStack Trove.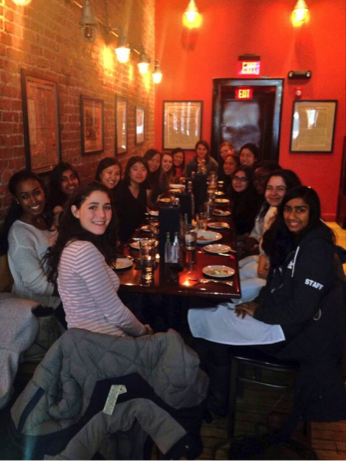 Prior to the conference, we hosted a lunch for 15 Women in Computer Science students. We had a great time connecting with these intelligent and motivated young women. In attendance were also two University of Cincinnati students whom Harvard WiCS hosted to attend WECode. It was inspiring to hear the women behind WECode reach out and connect with other young women beyond their own school. Throughout the conference, we continued to interact with students and field questions on various subjects including: What is it like working on your team? Why should I consider opportunities working on OpenStack?  How can we make this community of women in technology better?
The conference itself had an incredibly positive energy in the air. One conference attendee noted that compared to Grace Hopper, which she found to be career-oriented and focused heavily on recruiting, "WECode was centered around the student experience" through hands-on workshops and mentorship lunch discussions with experienced engineers.
Our hands-on Getting Started with OpenStack workshop was run by our lady Rackers, with the help of GNOME Outreach Program for Women's OpenStack intern Terri Yu. The workshop consisted of an introduction to OpenStack, followed by a discussion on why students should consider contributing. We talked about the importance of expanding and diversifying the OpenStack contributor base, which currently has very few active women contributors.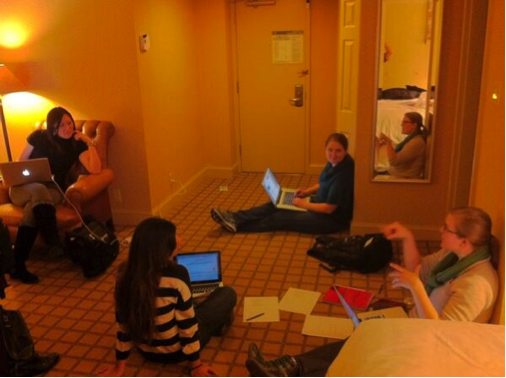 The workshop's small intimate setting aligned with the feeling of the conference being strongly student experience-focused. One student shared this feedback:
"The workshop was wonderful. It is very hard to present the kind of material that OpenStack is due to the whole system being complicated, but I think that taking this into account, the whole presentation was fantastic. I liked talking to people, both the workshop organizers and other participants. Mostly because of the spirit that dominated in the whole room I could not imagine a workshop I would have preferred to this one – thank you! You are amazing."
At the hackathon the next day, our lady Rackers set up a "study group" table to encourage more OpenStack learning through guided self-study. We also made ourselves available to mentor other hackathon projects. We had a great time talking to students to help them determine the right technology for their project. (Do I use Django, or do I use Grails?  When do I use Cloud Databases, and when do I use Cloud Files?) One student also commented that she spent the previous night clearing up her laptop to make space for her project. This was an excellent segue to introduce our Rackspace Developer Discount program. We gave out many discount cards and let students know that they could use the free credit to upload, store, and share their files on our cloud.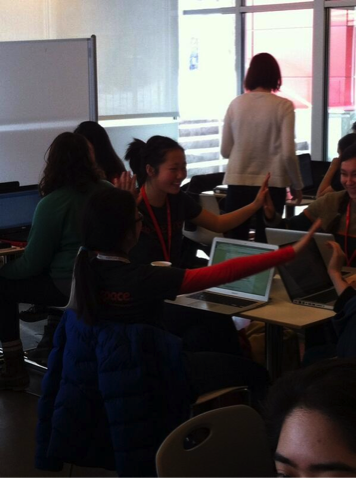 Overall, WECode was an incredible experience. I think this experience was made possible with the amazing Rackspace team that I had the honor of working with. Each woman in our small team of five brought a unique but key component to our team. Throughout the months and weeks of planning that led to this event, as well as during the time we spent together in Cambridge, I felt a growing sense of support and community from these women, and the feeling intensified as we continued to connect with the young women of WECode. Amazing things happen when one person has an idea and shares that light with others. We have to have the courage to speak up about our ideas. In the words of the popular t-shirt that we continue to get raving compliments on, we have to continue to "be bold."